When your Ferrari shows signs of engine mount trouble, it's essential to have that addressed by a trusted and skilled mechanic. Fundamentally, the engine mount holds the engine in place and keeps it stable and secure while driving. If the engine becomes damaged or breaks, this could compromise the safety and integrity of your vehicle.
There are many signs and symptoms that a Ferrari could exhibit that points towards engine mount issues. These could be signs like vibration on acceleration, clattering noises in the engine, or other problems resulting from the engine sliding around in the chassis.
A broken engine mount is unable to secure the engine, allowing it to slide around when driving. You might notice this feeling of the engine moving in the compartment when going around a curve, accelerating, or braking.
Noises like this are a serious cause for concern, and you should have your vehicle inspected immediately. Remember that your Ferrari is an intricate & precious piece of machinery. You should always have your Ferrari serviced by a qualified and experienced technician. Our certified master technicians are more than qualified to tackle this kind of issue for you.
A vibration in the engine might also be a sign of a loose or broken mount which can allow the engine to sit at an angle. This can cause catastrophic engine damage. You might notice this as a rattle or vibration when accelerating or revving up the engine. In any case, it would constitute an issue that one of our technicians will happily address for you.
In specific models of Ferrari vehicles, such as the F430 and 360, it is not uncommon to see the engine mounts disintegrate and fail after about ten years. This is due to the rubber in the mounts decays over time, rendering the mounts compromised or insecure. Wear and tear like this is expected and should be addressed before it becomes a more significant issue. If left unchecked, your engine may become damaged by impact as it slides around inside the chassis.
Dangers of a Broken Engine Mount
Driving with a damaged engine mount is very dangerous. An engine that isn't mounted correctly may slide around in the chassis and cause damage to the frame, engine itself, or other vital components of the vehicle. As such, it is vital to have the vehicle inspected by a qualified mechanic. It is a good idea to have your Ferrari towed to your trusted auto service garage so further damage is not inflicted on your engine or the parts connecting to it.
You may also experience extreme vibrations while driving. These kinds of vibrations can make the vehicle difficult to handle. No matter how small, any loss of control constitutes an extreme safety issue for you and any other passengers in the vehicle. It is of utmost importance to have this issue addressed by a mechanic.
Motor mount replacement is a relatively simple procedure that our expert team of technicians can quickly complete. Our technicians are very experienced with this kind of issue and would love to address this problem for you, so do not hesitate to bring your car in today.
Find Solutions at Mark Douglas Motorworks
For fifteen years, our master mechanics have been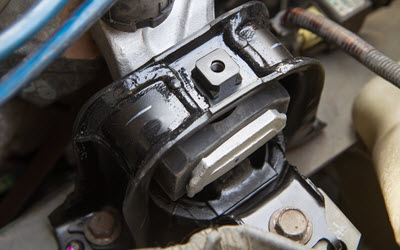 taking care of customers in the Orange County area of the sunshine state. We are a family-owned business and as such, we treat our customers like family. We would like to invite you to be a part of that family. We proudly serve the communities of southern California from Mission Viejo, Lake Forest, Costa Mesa, Irvine, Huntington Beach, and Laguna Hills. We even have some customers coming to us all the way from Laguna Niguel, CA!
Our skilled technicians are familiar with the ins and outs of Ferrari's as well as other luxury imports. We have the tools, the experience, and the know-how to care for you and your vehicle. If you suspect your vehicle may have damage to the engine mounts, don't hesitate to give us a call or bring it in to see us. We can diagnose, repair, and have you back on the open road in no time at all.