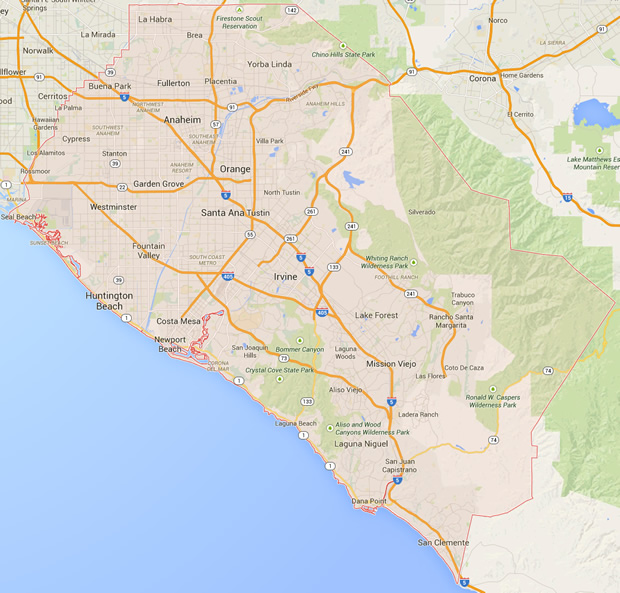 Orange County is located along an exquisite section of the California coast that overlooks the Gulf of Santa Catalina and is set against a backdrop of the gorgeous Santa Ana Mountains. By 1776, European settlers and Mexican missionaries settled in San Juan Capistrano and built California's first winery. For many years, the region was populated by cattle ranchers and silver miners. The area's fertile lands and mild Mediterranean climate have made it ideal for surfing, beach volleyball, citrus growing, avocado farming and agricultural pursuits that boost the economy and attract visitors from around the world.
Population Data, Visitors and Attractions
Today, the OC is home to 3 million residents. This makes it California's third largest county by population. The cities of Irvine, Santa Ana and Anaheim have a combined population of 900,000. The OC also has many natural attractions. The county's spectacular 40-mile coastline is dotted with affluent residential communities, dazzling piers and major port cities, including Newport Beach and Huntington Beach, which is affectionately called Surf City, U.S.A. Each year, 43 million tourists travel to Orange County to soak in the sun and see the sights. Visitors drive along the scenic Pacific Coast Highway, stay at Disneyland and stop at Knott's Berry Farm to enjoy the theme park's attractions.
The Local Economy
Orange County has a unique way of blending business with pleasure. The area is home to a number of restaurant headquarters, clothing brands, pharmaceutical companies and technology firms that are part of the so-called Tech Coast. Five Fortune 500 and eight Fortune 1000 corporations are located in Orange County's major cities, including Irvine, Lake Forest, Santa Ana and Newport Beach. Local businesses and tourism power the economy. Visitors spend an estimated $7 billion at Disneyland and other local attractions. The area also has a booming retail business driven by five of the region's largest malls and shopping centers. The South Coast Plaza Mall alone has more than 375 shops and restaurants.
Fast Facts about Orange County
Orange County is one of the wealthiest parts of Southern California.
The median family income in Orange County is higher than the national average and the state average.
Unemployment rates are lower than any other major metropolitan area in California.
The county's gross domestic product exceeds $210 billion.
Taxable sales total $55 billion.
With 3,800 residents per square mile, Orange County is one of the most densely populated areas in the United States.
The county is home to 12,000 non-profit groups.
Residents can explore nearly two dozen public beaches, beach parks, harbors and beach cities.
With all of these natural and man-made attractions, it's no wonder that Orange County is popular with residents and tourists alike. We think it's great too.