When buying a luxury sports vehicle, some of the two most attractive features are the sleek design and the sound of engine performance. The sound of your Aston Martin's engine is controlled by an exhaust bypass valve, which unfortunately, like the rest of your vehicle, is subject to malfunction.
The exhaust bypass valve consists of several parts, including a flapper valve. The flapper valve is actuated by a lever connected either to a vacuum diaphragm or an electric engine. This flapper valve acts as a restrictor within the exhaust system to change the path that the gases follow by either opening or closing. It is part of an electrical system.
When the ignition is off, and no electrical impulses are running throughout your Aston Martin, the valve is designed to remain open, which is why your vehicle gives off a loud roar when you first turn the ignition key on.
Signs the Exhaust Valve is Sticking
The valve is operated by a vacuum diaphragm, which pulls the valve closed. When the flapper valve is closed, typically when your RPMs are lower, the exhaust gases are forced to travel through the longer path within the pipes. The gases are forced through the silencer, thus making your vehicle present quieter while driving at lower speeds.
When the flapper valve is open, the gases take a shorter route through the exhaust pipes. The gases are then able to bypass the silencer, allowing your vehicle to become louder, giving off more of a roar rather than a purr.
Causes of Exhaust Bypass Valve Sticking
You may notice when you start your vehicle, it no longer gives off the loud roar like it does when it is functioning properly. Instead, it just remains quiet. Several things can occur causing your flapper valve to stick, including:
the use of heavy leaded fuels
a buildup of lead in the exhaust valve
a broken piece within the valve itself
corrosion build up
Experts say you are more likely to experience a stuck valve on a hot summer day rather than a cold winter month due to the way the pipes expand and contract.
There are a few tell-tale signs that your exhaust bypass valve is sticking, thus not performing as it should. A few of these signs to look out for are:
a loud idle
your vehicle never quiets down, especially when traveling at low speeds
warning lights on your dashboard relating to emissions or to check the engine
Mark Douglas Motorworks
Mark Douglas Motorworks is a family-owned and operated auto repair shop designed to provide top-quality service to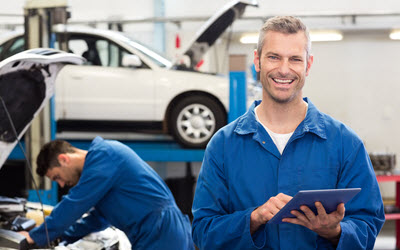 our loyal customers. We proudly serve all the Orange County area including Mission Viejo, Lake Forest, Costa Mesa, Irvine, Huntington Beach, Laguna Hills, and Laguna Niguel, CA.
Our owner, Mark, is a factory-trained & certified Master Technician with decades of service under his belt. Mark started his career in 1998 as a diesel technician. He attended Universal Technical Institute, the BMW STEP program, and later went on to earn his title as Master Technician while working in Newport Beach, California.
He traveled with the Stillen crew as a rally technician for the 2006, 2008, 2010, and 2011 Targa New Zealand Race and the 2009 Targa Newfoundland Race. After eight years of service at BMW, Mark sought to further his knowledge of exotic cars and began work for Ferrari and Maserati of Orange County, California. He went on to realize exotic cars were more than just a passion for him and expanded into opening Mark Douglas Motorworks.
Mark whole-heartedly believes in the happiness and trust of the customer, which is why we offer honest, quality service & repair work. All our certified technicians have years of experience in the repair and service of exotic vehicles including:
At Mark Douglas Motorworks, we start with a visual inspection of your vehicle followed by a written estimate, and Mark will keep you updated throughout repairs. We are so pleased with our high-quality work by our technicians that labor is backed by our 24-month/24,000 mile warranty.
You are more than just a customer to us; you are family. We are here for you the entire time your vehicle is in our care. Do not hesitate to give us a call today and schedule your appointment.
* Aston Martin Car image credit goes to: joeygil.