Ferarri Auto Repair Services in Mission Viejo
Ferrari S.p.A. is a manufacturer of luxury sports cars. They are based in Maranello, Italy. The company's history goes all the way back to 1929 when a man named Enzo Ferrari opened a business called Scuderia Ferrari. Back then they made race cars and sponsored drivers until 1947 when they made their first street legal car. This is when the name changed from Scuderia Ferrari to Ferrari S.p.A. In 1969, Fiat bought out 50% of the company and in 2008 expanded its holdings to 85%. Regardless of who owns half or even most of the company though, the Ferrari name is a well-known one in both Formula One racing and also in the world of luxury sports cars. In fact, the street legal cars made by Ferrari are synonymous with wealth, luxury and speed.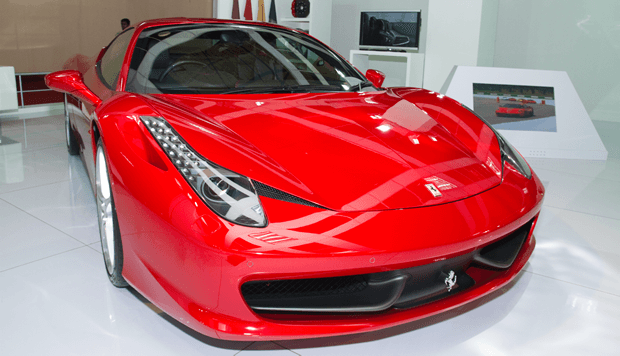 When Enzo originally founded the company, he wasn't that interested in making street legal cars. He prepared and raced (successfully) a variety of drivers who drove Alpha Romeos until the year 1938 when he was finally hired by Alpha Romeo as the head of their racing department.
Throughout WWII when Alpha Romeo was confiscated by Mussolini, he was banned from racing. It was during this period that he designed and built his first race car. Due to the war, it didn't see much action. It wasn't until 1943 that the Ferrari factory moved to Maranello and in the very next year, it was bombed by Ally forces. Ferrari rebuilt the factory in 1946 and the factory is still in use today.
Current Models
Today, there are many Ferrari street legal models that include the California which comes as a grand tourer, Convertible or V8; the 458 Italia which is available as a sports car, V8 or coupe; the FF which comes as a grand tourer, V12 with a shooting brake; 458 Spider comes as either a sportster or roadster and has a V8; the F12berlinetta is available as a coupe or grand tourer and has a V12 and finally the LaFerrari comes as a coupe or sports car and has HY-KERS and a V12 engine.
Supercars
In 1962 the 250 GTO was released and that was the first supercar. Today the supercar in the current model lineup is the LaFerrari.
Hybrid and Bio – Fuel Cars
In 2008 at the Detroit Auto Show, Ferrari displayed a F430 Spider that is fueled by ethanol. This was their first foray into the field of hybrid or bio-fueled cars. Since then there have been no others however, they have made the announcement that in 2015 they will have a hybrid in production. In 2010 at the Geneva Motor Show, they presented a hybrid version of the 599. It was called the HY-KERS Concept. With the hybrid system they will be using, the vehicles will get an additional 100+ horsepower.
Ferrari Service and Repair
Ferraris are one of the more popular sports cars out there. Like most high end vehicles, they require proper care and maintenance. The MDM technicians have decades of experience with Ferrari service and are waiting to help keep yours running like new! Whether your Ferrari needs brake repair, transmission service, an oil change, factory recommended services, performance upgrades, suspension work or vehicle diagnostics, our technicians will have yours running in tip-top condition. Don't waste money going to the Ferrari dealer, our technicians are second-to-none! Our European auto repair experts will keep your Maserati running like new!
Ferrari Repair Services
Ferrari Brake Service
Ferrari Clutch Service
Ferrari Oil Service
Ferrari Suspension
Ferrari Transmission Services