Ferrari is known for being an elite performance vehicle, so you would expect to get the best performance possible for the cost of the vehicle. However, it has maintenance requirements and potential breakdowns, just like any vehicle make and model. Parts wear over time, including the exhaust manifold. Spotting the signs of a cracked exhaust manifold will help sustain the life of your Ferrari. In this article, we will discuss what these signs are and where to go for proper repair.
What does an exhaust manifold do?
An exhaust manifold doubles as the "lung" of your vehicle. As you may already know, your car needs to burn a lot of oxygen to perform at optimal conditions. If the cylinder stays full of gas, oxygen cannot enter the cylinder and mix as designed. That is where the manifold steps in to aid in the process. It also expels exhaust through the tailpipe of the car and disperses it safely into the environment.
Warning Signs of a Cracked Exhaust Manifold
If the exhaust manifold in your Ferrari is cracked, you will begin to notice a few things happening to your vehicle. Here are some of the signs of a malfunctioning or cracked exhaust manifold:
A decrease in power, fuel efficiency, and acceleration. When the exhaust manifold causes the process of combustion to become off balance, the power and speed of your car will be negatively impacted. This exhaust leak could also cause you to fill up on gas more often, since your power balance will be skewed.
Noisy exhaust. When your exhaust manifold is fully open, as designed, it is able to expel air. This makes a sort of whooshing sound, which is normal. If the manifold is cracked in any portion of the component, it emits a whining, pitchy noise where the air is escaping out of the crack. When the exhaust becomes noisy, it is likely that the issue is caused by a crack in the manifold.
A burning smell. This is always concerning because burning parts can lead to catastrophic damage to your car and endanger to you and your passengers. This is also the case with a broken exhaust manifold. When it does not work as it should, the excessive heat tends to start destroying other parts of your Ferrari. It is important to take your Ferrari for servicing immediately. Even a tow might be necessary.
What You Can Do
Take it in for professional repair. When your exhaust manifold cracks, you should go to an experienced auto shop as soon as you possibly can. Prolonged damage due to this issue could ruin your Ferrari and lead to expensive repairs and overhauls.
Ensure regular inspections during routine maintenance. In the future, you should have an automotive technician run tests on and inspect your vehicle for any possible problems. If they catch cracks and wear early on, it will save your Ferrari from worsening issues, and it will save you from higher expenses at the repair shop. Always stay on top of maintenance.
Where to Go
You can't trust just any mechanic with such an intricate and powerful vehicle like a Ferrari. You need technicians who are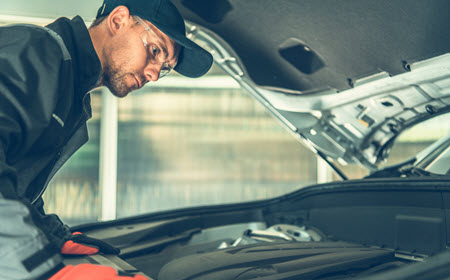 highly trained and qualified to deal with any issues a foreign vehicle faces. Dealerships can be expensive and labor costly.
Mark Douglas Motorworks is a family-owned business who treats customers with respect and friendliness. For 15 years, Mark Douglas Motorworks has been the area's leading dealership alternative for European vehicle servicing in our community and surrounding areas. You can trust our expert technicians to get the job done right the first time.
If you are in the following areas of Orange County, California and you need your vehicle serviced, come see us today:
Mission Viejo
Huntington Beach
Lake Forest
Costa Mesa
Irvine
Laguna Hills
Laguna Nigel
We provide excellent service, maintenance, and repairs for Ferraris and other European vehicles such as:
BMW
Maserati
Audi
Mercedes Benz
Jaguar
Porsche
Range Rover
Bring your Ferrari in for a consultation or call for an appointment. Mark Douglas Motorworks will repair your luxury performance vehicle to its dealership condition and have you back on the road safely and quickly.