The electrical system in your Maserati consists of many different components without which, your car would not start. This intricate system controls the headlights, brake lights, windows, center console, mirrors, and so much more.
Because the electrical system controls so many aspects of your car, when there is a problem, it can be challenging to find the exact cause.
If you are in need of electrical repairs in your Maserati, don't waste your time trying to figure it out yourself. Instead, have our expert mechanics at Mark Douglas Motorworks properly diagnose the cause and professionally repair the issue.
Warning Signs of an Electrical Problem
When there is an issue with your electrical system, symptoms may be erratic. There can be a number of warning signs that suggest your vehicle's electrical system needs help. We've put together a list of things to watch for in your Maserati:
Burning Smells: A common warning sign of an electrical issue is the smell of burning or melting plastic. The smell occurs when there is a short and the plastic insulation on the wire heats up and melts. If there is a smell of burning plastic or if you see smoke, have your Maserati serviced right away. An electrical short can be dangerous and lead to a fire.
Dim Lights: An electrical issue can lead to dim lights. A failing battery and bad bulb could also be the problem.
Stereo, GPS, or Dashboard Does Not Work: The more your vehicle's components rely on electricity, the more things can go wrong. If any of these components are not working properly, there is a possible issue with the electrical wiring or a blown fuse.
Interior Lights Stopped Working: If the cabin's lights stopped working, there is possibly an issue with the wiring or a blown fuse.
Car Will Not Start: When your vehicle will not start, the most common reasons are the battery or the starter, which are part of the electrical system.
Diagnosing Electrical Problems
Diagnosing an electrical issue can be frustrating and time consuming. At Mark Douglas Motorworks, our expert technicians will run a specialized diagnostic that can determine the source of the problem quickly so we can get you back on the road with confidence.
Dead Battery: A dead battery is the most common sign of an electrical issue. When the battery is dead, the engine will not turn over.
Battery Cables Need to be Replaced: A corroded battery cable can cause your car not to start.
Bad Alternator: The alternator charges the battery. When the alternator is bad, the battery will not charge. Symptoms of a failing alternator can include dimming headlights, stalling and a dead battery.
Blown Fuse: A blown fuse is usually an easy fix. If you replace the fuse and it blows again, have your mechanic run a diagnostic check to determine the additional problem.
Bad Spark Plugs: Bad spark plugs can cause your Maserati to lurch or idle roughly.
Starter has Failed: When the starter fails, the engine will not turn over. When trying to start your car, you will often hear clicking noises.
A Damaged Wire: There are miles of wires in your Maserati which can be damaged by outdoor elements, improper installation, rodents, and impacts such as collisions or a large pothole. A damaged wire can short out and cause an electrical fire, so be wary of the warning signs above.
Your Local Maserati Repair & Service Shop
At Mark Douglas Motorworks, we are dedicated to providing the highest quality service to all our customers. We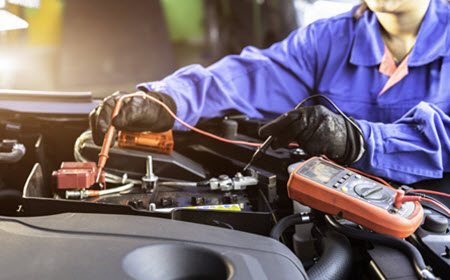 are family-owned and operated, with over 15 years of experience. We take great pride in providing honest and knowledgeable service. Our technicians are factory trained and certified with decades of experience working with exotic cars.
Regular maintenance is critical for protecting and preserving your Maserati. We provide factory recommended services and always use the highest quality parts and materials. We provide our customers with a 24-month/24,000-mile warranty on services and repairs.
We believe that it is important to keep our customers informed every step of the way. We provide a visual inspection, written estimate, and will keep you updated throughout the repair process.
Call or Visit Us Today
If you are experiencing electrical issues or need to schedule routine maintenance, call Mark Douglas Morotrworks today. We service the Orange County area, including Mission Viejo, Lake Forest, Costa Mesa, Irvine, Huntington Beach, Laguna Hills and Laguna Niguel, CA.