Ferrari is an Italian luxury sports car automotive manufacturer, founded by Enzo Ferrari in 1947 in Maranello, Italy. This popular sports car manufacturer is known for making extremely powerful engines in their sleek sports cars with an engine sound like no other. These vehicles are built with a higher standard in mind than most, but Ferraris may experience issues with a camshaft leak. Let's dive deeper.
What is a camshaft?
A camshaft is an important component of a Ferraris engine. It is a hardened steel rod with lobes or round bulges. It is responsible for how much air and fuel is allowed into the combustion chamber to ignite the engine. It also determines how much exhaust gas is expelled for the next charge.
When the camshaft experiences damage, all parts surrounding it are at an increased risk of damage as well, specifically parts located within the engine itself. This includes the crankshaft, cylinder head, pistons, connecting rods, and cylinder block.
As with many various parts of the engine system, the camshaft requires lubrication from engine oil to reduce friction. This keeps these parts, and those surrounding it, at optimal cool temperatures. Engine oil travels to the camshaft to provide adequate lubrication, and then flows back to the cylinder head and engine block to start its journey again.
Common Warning Signs of a Damaged or Defective Camshaft
Because engine oil flows through the camshaft itself, when this intricate part becomes cracked or damaged for whatever reason, oil begins leaking from the damaged area rather than flowing through, as intended. Common signs of a bad camshaft include:
Strange noises: A faulty camshaft often produces strange noises including loud tapping or ticking Identifying the source of the strange sound can be quite difficult as it is often not a constant sound.
Metal debris: Camshaft lobes that have become worn for whatever reason may result in metal debris infiltrating the engine oil as it flows through. This is often not noticed until it is time for your oil change service.
Misfiring: A damaged camshaft may leave the engine performance up to chance as a result of cylinder misfiring. You may notice your vehicle jerking, shaking, losing power, or using more fuel than usual.
Visible signs of damage: Damage to the camshaft is often visibly seen upon inspection by a professional.
What should I do if my Ferrari has a bad camshaft?
If you find your Ferrari experiencing any of the above-mentioned symptoms, you must have a highly-trained and experienced mechanic conduct a thorough inspection of your vehicle to determine the source. They will provide consultation of the best route to take in regards to repairing or replacing the camshaft.
A camshaft that is not completely broken may be machined, or essentially rebuilt. This is often the least expensive option in fixing a faulty camshaft as you are supplying the core. Another common route is to purchase a remanufactured camshaft rather than purchasing a brand new one, as it is also less expensive. However, some choose to purchase a brand new camshaft in hopes to avoid further problems sooner if a rebuilt or remanufactured camshaft breaks.
Mark Douglas Motorworks: Experts in Ferrari Models
At Mark Douglas Motorworks, we are conveniently located in Mission Viejo to better service exotic vehicles in and near the Orange County area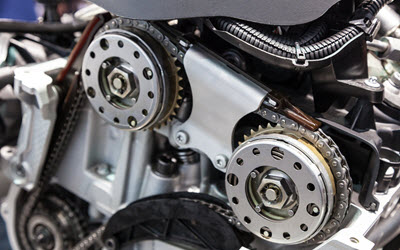 including Mission Viejo, Lake Forest, Costa Mesa, Irvine, Huntington Beach, Laguna Hills, and Laguna Niguel, California.
As the #1 Exotic service and repair facility in Mission Viejo, we service popular brands such as Aston Martin, Bentley, Ferrari, Maserati, and Rolls Royce.
At our family-owned and operated service and repair facility, we provide A/C repair, brake service and repair, check engine light maintenance, clutch repairs, engine repair, oil change services, suspension repair, tire and wheel services, and transmission repairs on popular exotic makes and models.
When making the exciting choice to purchase an exotic luxury vehicle, you understand that there is an added emphasis on routine maintenance compared to other makes. Choose our highly-skilled and certified mechanics, who specialize in exotic models, to work on your vehicle to keep it in top condition. Give us a call today for excellent service at Mark Douglas Motorworks!