When you purchased your Bentley, you were buying a vehicle that you would depend on to get the job done well and do it fashionably and comfortably. The last thing you want is a bad battery that prevents you from being able to drive freely. What a lot of people don't realize is that the battery replacement install is just as important as the battery itself.
The battery in your Bentley is crucial for starting up the vehicle so that you can get where you need to go. We've written this article to show why you need a genuine battery replacement service for your vehicle, and advise you on where you can get professional installation by elite technicians. To start, we'll discuss why it is important to get your car's battery replaced.
Why is it important to get my battery replaced?
Every time you start up your Bentley, your battery becomes slightly less powerful and loses some of its charge. Modern car batteries can last a very long time, but they will still become inefficient and flat eventually. In fact, a dead battery is one of the most common reasons for a roadside assistance call.
New cars wear on their battery more than older cars, so if you have a more recent model, you should pay extra attention to the status of your vehicle's battery. The battery is responsible not only for starting up the car when you crank the engine, but also assisting the alternator in powering the car's many different computers. Taking care of your car's battery is an investment that will pay dividends.
How often should my car's battery be replaced?
As we said earlier, many modern car batteries can last a surprisingly long time, often up to five or six years. However, most cars will wear down their batteries to an unusable state within three years. Once you reach that three year point, we advise that you get a genuine battery replacement for your Bentley. If you leave it much longer than that, and you risk not being able to start your car.
Battery wear is not always consistent. For this reason, whenever you stop by a mechanic shop for a normal tune up or oil change, ask the technicians to check your battery. A good mechanic shop will have instruments to make sure that everything is functioning properly with your battery, and if they aren't we recommend getting a new one soon.
Turn to the Pros
No matter how carefully you treat your car, your Bentley's battery will wear down and need to be replaced at some point. This job is not overly difficult and can be done by those that prefer to do their own mechanic work.
It is all a matter of selecting an appropriate type of battery for your car and then properly installing it after removing the old one. Make sure that the positive post is connected to the positive terminal and the negative post is connected to the negative terminal. A professional mechanic will be sure to clean up around the posts and apply grease that will ensure everything is working properly for years to come.
However, when you find a reputable shop that can do the job well, it can ease a lot of the hassle of changing a battery. This is one of the most important pieces of equipment in your car, and professionals will be able to get the job done right in a short amount of time.
Mark Douglas Motorworks is Superior to Other Shops
Too often, we hear drivers talk about not trusting their previous mechanic. At Mark Douglas Motorworks,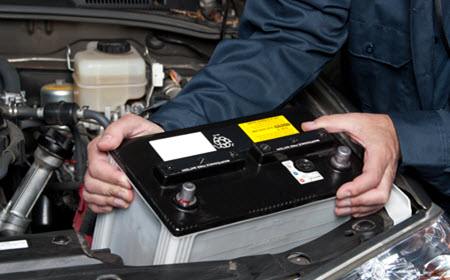 not only do we provide expert service and repairs, we also want each of our customers to feel like family.
Our expert European car specialists will inspect, diagnose, and repair the problem quickly and efficiently. At Mark Douglas Motorworks, you can be confident that your car is in good hands. Our friendly and knowledgeable staff will keep you informed every step of the way.
If you have any issues with your European vehicle, we would love to help you. We proudly serve all of the Orange County area, including Mission Viejo, Lake Forest, Costa Mesa, Irvine, Huntington Beach, Laguna Hills and Laguna Nigel, California. Stop by our shop in Mission Viejo or give us call today. We look forward to earning your patronage for all your future Bentley needs.