The importance of the annual service on your Maserati stands out as one of the most important things to keep its performance at a top-level. The Maserati's infrequent service times also make it essential to take place on time to avoid premature failure of the car's components. That is why owners must know how to find an expert in Mission Viejo for complete annual service when their service is due.
The first car rolled off of the Maserati Brother's production line over a hundred years ago. Each new model has added new technology and endurance that made the Maserati what it is today. That technology has led to the Maserati able to function at a high level without more frequent servicing required. Let's take a closer look at the Maserati and the care it needs to continue to perform at a high level.
The Maserati Service Schedule
Different brands of cars need service at other recommended times by their manufacturers. In older model cars, servicing recommendations were as often as every 2,500 miles or three months. The engineering of today's cars requires much less frequency. For example, today's cars are more likely taken in around 5,000, 7,500, and 10,000 miles for inspection and service.
On the other hand, the Maserati was engineered to have service performed every 12,500 miles or every two years. This is what Maserati considers its annual service plan. Without more frequent service, the annual check is essential to a Maserati's health.
Below is the service schedule for every Maserati during its annual checkups:
oil and filter change (oil analysis on request)
air filters change
full brake fluid replacement
brake system inspection
computer diagnostic scan
fuel injector inspection and cleaning
differential service
tire pressure check
safety inspection
With so many miles between service appointments, you can see why skipping or postponing this service could end in damage to your car. A repair to your Maserati will be an expensive result of not heeding annual service. A few examples of what can go wrong are:
Brake system malfunction: Your Maserati's brakes are your lifeline for protecting the vehicle and yourself from a crash. Skipping an annual inspection is dangerous and leads to injury or death.
Catastrophic engine failure: The heat that builds through the high energy exchange in the Maserati engine needs a clean quality oil to keep it from damage. Taking your car past the annual service range will immediately start affecting the engine's lifespan.
Poor performance: A direct reason a high-performance car functions the way it does is due to a healthy air and fuel mixture. With dirty air filters and clogged fuel injectors, it will perform poorly.
Expert Service
Now that we understand the importance of an annual plan, we need to dig into who best performs the service. Dealership prices and slow service times give many Maserati owners a headache when it comes to bringing in the vehicle for service. The good news is there are options instead of a costly dealership.
Finding a shop with experts in Maserati repair and servicing requires patience when researching. Most repair shops on the street corner do not have the expertise, training, and experience to work on a Maserati in the Mission Viejo area.
The perfect shop must have certified, trained technicians and have years of experience with several models of the Maserati brand. The shop also needs state of the art equipment to run diagnostics during annual service and for repairs. High quality, fast work at less than dealership prices is required to keep your Maserati operating as it should.
Bring Your Maserati to the Experts
At Mark Douglas Motorworks in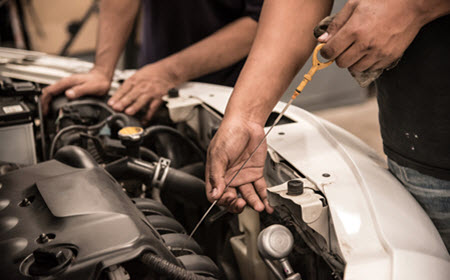 the Orange County area, including Mission Viejo, Lake Forest, Costa Mesa, Irvine, Huntington Beach, Laguna Hills, and Laguna Niguel, CA, we are ready to service your vehicle. Our trained and certified ASE technicians are the top of the line when it comes to keeping your Maserati performing like the day driven off the dealer floor. Whether you drive a Maserati, Bentley, Ferrari, or Aston Martin, you'll find no better quality service in the Mission Viejo area. Contact us today to schedule your annual service call.
* Maserati Car image credit goes to: Roman Stasiuk.