Audis are vehicles that exceed standards set for performance, safety, and design. In order to keep your Audi running in top condition, regular maintenance is required. Even as you diligently keep up with the maintenance schedule of your Audi, one issue that commonly arises is problems with inconsistent lights.
The lights of your Audi are parts that may often be forgotten in regards to their importance. We expect and assume that they will always work when we turn them on or when we start up our Audi. Even though many of us think this, the lights play a crucial role in how we are able to function our Audis safely. The lights directly relate to visibility for ourselves and for others. If your Audi is experiencing inconsistent lights then you may not be able to see what is in front of you as you drive; worse, others may not be able to see you because the lights are not consistently working. In order to gain more information about this issue, we will discuss the causes and warning signs for inconsistency in your Audi's lights.
Causes of Inconsistent Lights
The first cause that you should be aware of in regard to inconsistent lights relates to the alternator. If the alternator is having problems, it can cause your Audi lights to function in an inconsistent way. The alternator plays an important part in the function of your Audi because it works directly with the battery. This is where the lights draw their power. The alternator is also responsible for charging the battery enough so it can produce the electricity it needs to power the lights.
The second cause of inconsistent lights is due to electrical issues. Many of the parts and functions of your Audi are only functional because of the electrical system that they run on. If there is an issue with the electrical system, the lights are not going to receive the proper power. Issues with the electrical system could be due to faulty wiring, blown fuses, or a bad connection between the battery and the lights.
Warning Signs of Inconsistent Lights
The first warning sign that you should be aware of is in relation to the interior lights. If there is an issue with overhead light or door lights, they may flash. This is generally due to faulty wiring. Another sign of faulty interior lights is the blinking or flashing indicator lights on your dashboard. It is necessary for the dashboard to be fully lit as you are driving so you can properly read all the indicators and meters. Again, this flashing could be caused by an electrical problem.
The second place that will demonstrate inconsistent lights are the headlights. The headlights may randomly flicker, but it will be enough to indicate to you that there is a greater issue occurring. A bulb could need replacing or there could be a bad connection between the battery and the bulb causing the lights to flicker inconsistently.
The third warning sign that will point to inconsistent lights is the taillights. If there is an issue with these lights, it can be slightly more difficult to recognize and diagnose because when you are driving, you are not looking at those lights. Flickering, blinking, and remaining lit are common signs of problems with your tail lights.
Fixing the Inconsistent Lights
As soon as you notice that your Audi is having inconsistent lights, you should bring it in for servicing at a trusted shop. Mark Douglas Motorworks is located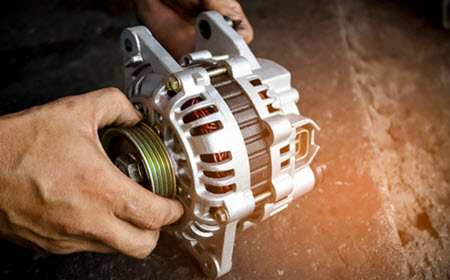 in the Orange County area, servicing communities including Mission Viejo, Lake Forest, Costa Mesa, Irvine, Huntington Beach, Laguna Hills, and Laguna Nigel, CA.
We are family-owned and operated and believe that quality service and excellent customer service are what will keep you coming back for any and all issues. With each vehicle we service, we strive to make lasting repairs at an affordable cost to you. There is no need to take your Audi to the dealership when we can make quality repairs without the expensive price. When you bring your Audi into us for the issues with inconsistent lights, you will drive away happy knowing that the root of the problem has been properly addressed. Call us today for an appointment at your convenience.