One of the top qualities of Aston Martin vehicles that sets them apart from the rest is their existence as hand-built vehicles. While this means that Aston Martins are substantially more costly than other vehicle brands, it also means they are more susceptible to mechanical issues and electrical faults. Surprisingly, despite their notoriety, Aston Martin vehicles are characteristically riddled with electrical faults that mostly require professional help to correct.
Although these models are unique and sophisticated, owners will have to live with the fact that they likely will experience electrical problems in their Aston Martin at one point in time or another. That's why it's a great idea to know what problems you should watch for and have a plan in place to address them when they arise. Reputable auto repair shops, like Mark Douglas Motorworks, are preferred as Aston Martin service locations because of their knowledge and experience in these models. Now, let's take a look at some common electrical faults that occur in Aston Martins that you should look out for.
Common Electrical Problems in Aston Martin Vehicles
Not every Aston Martin will fall victim to electrical issues in its lifetime, but it's highly likely that it will. So, knowing what to be on the lookout for will help you detect any electrical faults in your Aston Martin before they grow into larger issues that are more costly and labor-intensive for your local mechanic.
Vehicle Won't Start: Often caused by a weak battery, this can also be the result of battery corrosion, a fuel pump failure, a dead key fob battery, or a defective alternator. There are many other causes for this occurrence, but these are the top electric-related issues Aston Martin owners will see.
Control Module Communication Errors: As the result of a national recall, Aston Martin models are prone to communication errors that occur between the engine and transmission control modules.
Damaged Battery Supply Cables: Also another source of a recall, the driver's seat positioning can actually cause damage to battery supply cables. This can cause a short circuit, which may result in a vehicle fire.
Detecting Aston Martin Electrical Faults in Your Vehicle
Some electrical problems in Aston Martin vehicles may be outrightly obvious, such as the vehicle not starting or the headlights not turning on, while others are less forthcoming. Small electrical events that occur over time can culminate into a larger issue that requires extensive repair by the time it becomes noticeable. Of course, there is always the potential for an electrical infotainment system or safety set up to fail. Yet, the most common electrical faults in Aston Martin models are actually related to performance.
Getting Your Aston Martin's Faulty Electrical Systems Inspected and Repaired
Any type of electrical problem is best left to professional mechanics who are trained and experienced in these types of issues.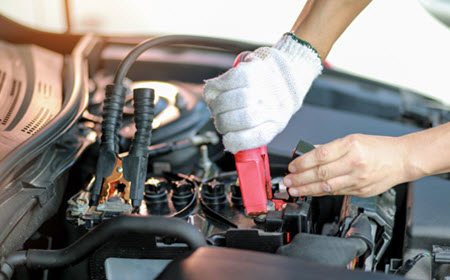 Not only can electrical systems be complicated to deal with, but they are also often interconnected. The last thing you need is to create an additional problem while trying to fix the first. That's why the professionals at Mark Douglas Motorworks are always available to help. Our team understands the expectations Aston Martin owners have for their luxury vehicles, so we always offer top-quality services and repair for your prestigious vehicle.
At Mark Douglas Motorworks, we are a leading exotic repair shop in the Mission Viejo area. Yet, we also serve the communities of Orange County, CA, such as Lake Forest, Costa Mesa, Irvine, Huntington Beach, Laguna Hills, and Laguna Niguel. Our technicians have more than 15 years of experience in working on luxury vehicle models, like Aston Martins, so they can provide expert insight on the issues that mean the most to this brand's owners.
Caring for customers in an environment that is well-equipped for luxury models is what we do best at Mark Douglas Motorworks. Established by a Certified Master Technician who oversees daily operations, you can feel confident in the ability of technicians at Mark Douglas Motorworks to take care of your Aston Martin with utmost care. If you'd like to see what this experience is like, call Mark Douglas Motorworks at (949) 472-8842, and let's chat!
* Aston Martin Car image credit goes to: grummanaa5.