Bentley is known for having unmatched features that provide sophisticated comfort and style to its drivers and passengers. The windows are tinted and usually soundproof to a degree. The windows work with other luxury components in your Bentley to give you the best comfort attainable on the road. However, the windows can also develop faults, as rare as they may be.
In this case, you will notice some warning signs leading up to the development of window issues. The burden is on Bentley owners to quickly locate the issue, as the faster it gets rectified, the better the chance of straightforward, simple repairs.
Indications that Your Bentley's Window is Experiencing Issues
The level of comfort enjoyed when cruising your Bentley can be grossly hindered by a faulty window. Therefore, identifying these issues before they break down entirely is essential. Here are some signs that your Bentley has window issues:
Audible hissing sound when controlling the window: Whenever a Bentley window has developed a fault or is starting to fail, the window may make a district and very audible hissing sound. This usually occurs when you lower the window. This hissing sound can also be from wear and tear arising from the age of the car.
Sluggish movement of the window: These issues arise as a result of a failing motor or a bad regulator. This window regulator is cable-driven, and over time, the cable starts to stretch and eventually fails, causing the cable to wrap around the motor. This would cause the window to move up and down slowly. If not repaired quickly, the window may become crooked to the point of being knocked off the rail.
The window button doesn't work: Once the window cable is damaged, it can lead to electrical failure, in which case, the connection between the window button and the window becomes severed. This leaves the button incapable of performing its task. Suppose you notice a delay in response when you push down on the button. This should be your cue to employ an automobile technician and get it checked out.
Change in window speed: Another indication of a failing window regulator is irregular window movement speed. It may roll up or down slower or faster than normal. This is an indication of a motor problem. It is best to contact your trusted Bentley auto repair center before it affects other window components, which will cost you more in the long run.
The window gets stuck: This problem can be due to a bad regulator. Since the motor and regulator are built together as one assembly, the chance of one component spoiling the other is high. In most cases, it is the regulator that goes bad but the motor gears can malfunction as well. A faulty motor gear can lead to a break in contact between the regulator and the motor. When either component is damaged, you may notice that the window becomes stuck in one position. This can also be accompanied by grinding sounds or squeals as the motor and parts become stuck or rub together.
If you experience any of the stated issues from your Bentley, please contact our professionals for help. The electric system used in Bentley windows utilizes a complicated lifting system, making the window motor more challenging to swap or repair than other car brands.
Mark Douglas Motor Works For your Bentley Window Issues
If you are around the Orange County area, searching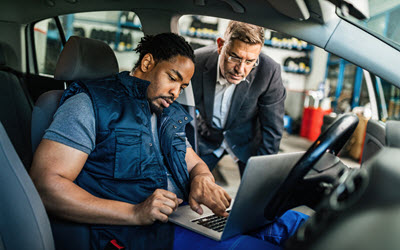 for a quality motor repair workshop, you can drive your Bentley to Mark Douglas Motor Works. We are located in Mission Viejo, CA, and also service and maintain high-end exotic cars from Lake Forest, Costa Mesa, Irvine, Huntington Beach, Laguna Hills, and Laguna Niguel, CA.
The experts at Mark Douglas Motor works make it possible to get all of the services and repairs your vehicle needs at a more affordable price. Our European car specialists know the maintenance needs and unique care plans for most popular and high-end luxury car brands, such as Bentley. Please call or visit our shop today to schedule an appointment or learn more about our services and maintenance programs.