Drivers look for comfort, quality, and luxury in their cars—especially Jaguar drivers. Jaguars are known for these characteristics, but provide drivers with an even more exceptional driving experience due to their high-end performance standards. California weather is perfect for those long drives down the coast, where you can put the top down and enjoy the scenery for hours. If you live in California, or another area perfect for putting the top down, then you might be the proud owner of an F-TYPE or XK Jaguar that come in convertible top options.
Although convertible tops are a fantastic way to enjoy the luxury of your Jaguar, it's important to recognize that this feature can encounter operating issues over time. With the proper preventive care and maintenance, these issues can be avoidable; however, if you run into problems, it's best to have them addressed by a Jaguar professional. In this article, we'll go over some factors that contribute to convertible top failure in certain Jaguar models and what you can do to keep this from happening in your own Jaguar.
Potential factors that contribute to convertible top failure
There are a number of different reasons why your Jag's convertible top fails or malfunctions. Some of these contributing factors are avoidable and preventable, and some are not. Collaborating with a Jaguar specialist can help you anticipate these issues and stop them before they occur by properly maintaining your car's convertible top mechanism.
Problems with the mechanics
Over time, the intricate parts of the convertible top mechanism can wear out and fail—especially the motor components. These parts require proper lubrication, which is where hydraulic fluid maintenance comes in. However, frequent inspections can help ensure that the mechanisms are in good working order.
Issues with the hydraulic fluid
The hydraulic fluid that keeps the convertible top smoothly opening and closing can encounter function issues if it is not properly maintained. To avoid leaks or other issues, quality inspections, fluid flushes, and fluid top-offs may be necessary over time, depending on how much use you get out of your Jag's convertible top.
Electrical issues
The convertible top on your Jaguar runs off of a mechanical system that is powered by electronic components. The various fuses, wiring, and connectors can corrode or become damaged—especially when exposed to high humidity and condensation. It's best to have these parts inspected as time goes on, but you might not get around to it until you encounter an issue with the convertible top mechanism.
Sedentary periods without use
It is helpful to keep in mind, "if you don't use it, you lose it." This is especially true of convertible tops in cars. It's likely that you were attracted to your Jag's convertible top because of the weather where you live, and the potential for you to enjoy long drives with the top down. Unfortunately, sometimes extenuating circumstances keep us from being able to enjoy our convertible tops, which can cause parts to rust, corrode, or the hydraulic fluid to become sedentary.
What you can do to prevent this issue in your Jaguar
As a responsible driver and consumer, there are certain things you can do to keep your Jaguar's convertible top in excellent condition. Since these parts are prone to failure without the proper maintenance, the following tips may help you prevent issues from occurring:
Hire a Jaguar specialist
Follow up with concerning symptoms
Follow manufacturer maintenance recommendations
Periodically use the convertible top during off-seasons
How Mark Douglas Motorworks can help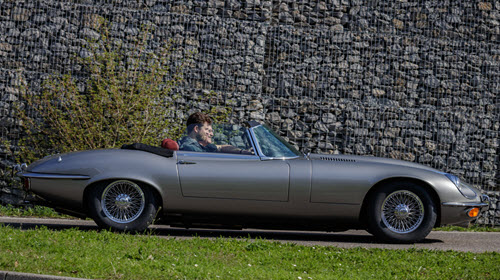 The Jaguar specialists here at Mark Douglas Motorworks serve a wide range of clients from the Orange County area, including: Mission Viejo, Lake Forest, Costa Mesa, Irvine, Huntington Beach, Laguna Hills and Laguna Nigel, CA. Because we've been attending to common issues in Jaguars for years, we are knowledgeable and skilled in diagnosing and treating convertible top failure quickly and effectively. If you enjoy those long drives down the coast, you're not alone—many of our clients become highly disappointed when their convertible tops fail. If you've run into this problem in your own Jaguar, or would like to learn more about how to prevent it, please contact us today to schedule an appointment or to speak with a Jaguar expert.
* Jaguar F-Type image credit goes to: DarthArt.
* Jaguar Oldtimer Car image credit goes to: Gaschwald.