As a Bentley driver, your vehicle is an investment and should be well taken care of to maximize its longevity for years to come. Built with the best quality parts, you can count on the Bentley for a ride that is equal parts high-performance and sophisticated class.
They will encounter their share of problems over the years due to prolonged use and wear and tear. One of such problems is brake hose failure. Let's discuss the purpose of brake hoses, signs of brake hose failure, and where to take your Bentley when brake hose failure occurs.
The Purpose of Brake Hoses
Brake hoses are made from rubber or stainless steel and are powered by hydraulic pressure and brake fluid. They deliver braking force to the brake pads when you step on your brakes and come to a stop.
Brake hoses must be flexible in order to allow the driver to steer and brake efficiently. Stainless steel brake hoses encased in a braided mesh casing, are generally more efficient, as they allow flexibility while preventing the swelling that rubber hoses encounter, which negatively affects brake performance in the long run.
The best way to prevent brake hose failure is to take your vehicle in regularly for preventative maintenance and service checks. It is recommended to have brake hoses changed every five years.
Brake hoses can rupture, tear, leak, and become damaged over time due to wear and tear and the constant pressure placed on them while driving. If you suspect your vehicle is in brake hose failure, it is best you don't drive your vehicle until the problem is diagnosed and repaired. Your brakes cannot function properly without brake hoses in good condition and in many cases, it becomes dangerous to drive your vehicle.
Signs of Brake Hose Failure
If you encounter any of the below signs of brake hose failure, bring your vehicle to our trusted Bentley mechanics as soon as possible. Depending on your situation, you may need to have your vehicle towed to our mechanics, as it is often unsafe to drive with faulty brake hoses.
Worn or Damaged Brake Hose: One of the easiest ways to notice brake hose failure is to inspect the brake hoses themselves. If you notice your brake hoses are worn or damaged, it's time to get them replaced. Brake hoses are constantly under pressure, flexing every time you step on the brakes. While they are built to withstand pressure, over time they wear out and can develop tears, cracks, or loose hanging threads, making them susceptible to developing leaks and not working as they should.
Soft Brake Pedal: If you notice your brakes becoming soft or mushy when you step on the pedal at a stoplight, faulty brake hoses may be to blame. This problem can lead to potentially-dangerous driving conditions, as your brakes can malfunction, leaving you unable to brake your car to a slow or stop when needed.
Brakes Not Operating: If you find your brakes not operating at all, you may have faulty brake hoses. The brake hoses are what delivers hydraulic brake fluid and pressure to the calipers in order to slow the vehicle when you step on your brake pedal. Faulty brake hoses will not allow you to operate your brakes as normal, or even at all. This makes your vehicle unsafe to drive. You must have your Bentley towed to our trusted mechanics as soon as possible for inspection and repairs.
Mark Douglas Motorworks for Your Bentley's Needs
If you are dealing with faulty brake hoses, it is no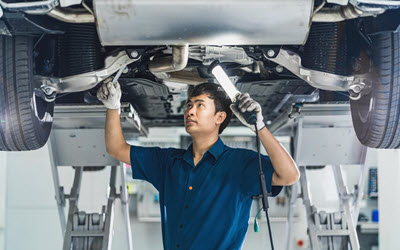 longer safe to drive your vehicle until they are replaced by our trusted Bentley mechanics. At Mark Douglas Motorworks, we offer affordable, quality service on high-end vehicles, including Bentley.
Our technicians have years of experience with the Bentley brand and can have your brake hoses replaced quickly, so you can get back on the road safely and drive your vehicle with confidence.
Mark Douglas Motorworks proudly serves the Orange County area, including Mission Viejo, Lake Forest, Costa Mesa, Irvine, Huntington Beach, Laguna Hills, and Laguna Niguel, CA.  Call us today to schedule your appointment.