Rolls Royce is the highest caliber of luxury vehicle available on the market. As an owner of one of these majestic beauties, you know that they offer a superb driving experience that is, quite literally, unmatched. Driving down the road, these cars feel like you're riding on a cloud. The quality and craftsmanship are superior, but that doesn't mean a Rolls is impervious to part failures. Regular maintenance is especially important for these cars in order to maintain optimal performance and ensure the value of the vehicle over its lifetime. In this article, we will talk about the purpose of Rolls Royce pressure control valves. Let's get started.
Different Valves for Different Functions
A Rolls Royce actually has multiple pressure valves for various purposes. There are pressure control valves for the air suspension, braking, and driver safety systems. No matter what system it's in, a pressure valve serves one primary purpose: to help the system maintain a certain pressure. Whether it's helping prevent pressure from climbing too high for safety reasons or keeping pressure high enough that the system can function, you can see why it's important for each of these valves to be working properly.
A few of the pressure control valves found in your Rolls Royce include:
Suspension Pressure Valves
Newer Rolls Royce models all make use of an air-cushion suspension system, helping provide you with the smooth ride you associate with the brand. To help maintain the pressure needed to keep the car level and absorb impacts from the road, air spring pressure valves are needed to keep the proper pressure in the air spring. If these valves begin to fail, you may notice that your Rolls is sitting lower than it should, possibly unevenly if only one side is failing.
Crankcase Ventilation Valve
The crankcase of your Rolls is essential to its operation, as it helps remove exhaust fumes from the vehicle. The one-way pressure valve in this part ensures the gases are moving to the next stage of the exhaust system where they can be safely removed. If this valve goes bad, your Rolls Royce may backfire or experience a hard start.
Height Control Valves
Certain older Rolls Royce models were equipped with height control valves in the front suspension. Like the suspension pressure valves, they can fail over time and may need to be replaced or reconditioned.
Oil Pressure Valve
Every vehicle needs oil, and your Rolls is no exception. Oil both lubricates engine parts and helps keep the temperature in a safe range. A properly pressurized oil system ensures the oil gets where it needs to be. If you notice an oil leak or are getting low oil pressure alerts, your oil pressure valve may need to be replaced.
Fuel Pressure Regulator
Like oil, the fuel in your vehicle is also pressurized to help it get where it needs to go. If your fuel pressure regulator stops functioning as it should, you'll notice a huge difference in your vehicle's performance, including backfiring, reduced power, or the smell of fuel when you accelerate. If the regulator is failing to hold much pressure at all, you may not even be able to start your vehicle.
Repairing Your Rolls
The valves listed above are just a few of the pressure control valves helping keep your Rolls Royce operating properly. If you notice anything odd or wrong with how your vehicle is operating, it's important to get it checked out as soon as possible. The good news is that most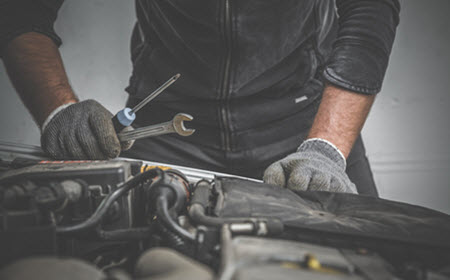 pressurized systems in your car will have sensors on them, so you should get a check engine light as soon as it starts to lose or gain too much pressure. As soon as you see that light, bring your car to us!
At Mark Douglas Motorworks, we're here to help keep all of the Orange County area on the road. If you live in or near Mission Viejo, Lake Forest, Costa Mesa, Irvine, Huntington Beach, Laguna Hills, or Laguna Nigel, CA and you suspect one of your Rolls Royce's pressure valves may be failing, call or stop by. Our skilled service technicians are ready to figure out what's wrong and get you the repairs you need quickly and easily.
* Rolls Royce Car image credit goes to: AdrianHancu.