Engine failure in a Ferrari is nothing to overlook. With so many moving components working together seamlessly under the hood of this exotic vehicle, the Ferrari California can experience engine failure at some point in its lifespan.
This high-performance sports car was made for top speeds and style, but that doesn't mean it isn't without some faults. Many Ferrari California owners begin seeing major signs of engine failure at 50,000kms. While some see signs of engine problems leading up to this point, others note immediate issues without warning. Let's take a look at how we can identify signs of engine failure in a Ferrari California at 50,000kms and how they can be evaluated and possibly fixed.
Top Signs of Ferrari California Engine Failure
It's not always easy to spot signs of your Ferrari California's engine failure, especially when it occurs like clockwork at 50,000kms. Yet, sometimes something may just not feel right with your Ferrari. Other times, it is minor inconveniences and problems that begin to add up. Here are a few common signs of engine failure in Ferrari California models that we see often:
Check Engine Light: As a symbol of fault or error, the check engine light of your Ferrari California will illuminate to let you know something is not operating normally in your vehicle.
Engine Knocking or Ticking: When your Ferrari California's engine begins to make knocking or ticking sounds, it is a sign your vehicle needs to be checked out by a mechanic. Normally a lifter problem, this can signal larger and more intensive underlying problems.
Crankshaft Failure: While you may have heard this term, you might not know exactly what it is. That's okay, though, because crankshaft failure tends to arise in Ferrari California models at 50,000kms.
Rough Idling: When your Ferrari California is sitting still, it should sound like a gently-purring kitten. If your idle is harsher than this, it may be time to have it looked at by a technician.
Decreased Performance: Accelerating slower than normal, taking more pressure to get started, and not reaching known high speeds are just a few signs of Ferrari California engine failure that may not be detectable to the untrained eye.
Typical Ferrari California Engine Failure at 50,000kms
At around 31,000 miles or 50,000kms is when you can expect your Ferrari California to possibly begin showing signs of engine failure. If you're one of the lucky ones who hasn't experienced this common phenomenon, it is certainly something to be on the lookout for. When you start seeing the aforementioned signs come to life in your Ferrari California, it may be time to have it inspected for any signs of engine failure.
Get Professional Auto Service From Mark Douglas Autoworks
Your Ferrari engine should have all the care and maintenance set forth by the designers and noted in your owner's manual. This high-performance sports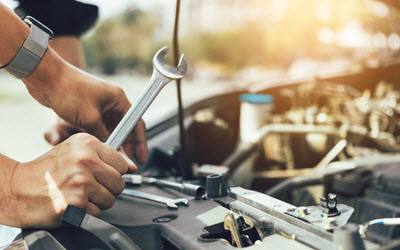 car sets the pace for many rivals. Yet, when it characteristically begins to show signs of engine failure at 50,000kms, it can become quite disheartening. When this occurs, come on into Mark Douglas Autoworks to see how we can help.
As exotic automobile experts, the technicians at Mark Douglas Autoworks are familiar with this Ferrari California issue and know just what it takes to prevent total engine failure in your Ferrari. Serving the areas of Orange County for years, we are dedicated to providing quality Ferrari services to individuals in Mission Viejo, Lake Forest, Costa Mesa, Irvine, Huntington Beach, Laguna Hills, and Laguna Niguel in the State of California.
Our attention to detail, as well as affordable and convenient services, are why buyers enjoy bringing their Ferrari to our service and repair facility. Our individualized approach is what keeps customers coming back time and time again.
If you'd like to also become a customer of Mark Douglas Autoworks, simply call (949) 472-8842. One of our friendly customer service representatives will be happy to answer your inquiry and tell you more about the prevalent engine failures of Ferrari California models. These luxury vehicles take a special kind of care and quality that others don't, so be sure to bring your Ferrari California into a dealership that has experience in exotic vehicle care.