The Aston Martin DB9 is a car that deserves respect. Offering its drivers a road experience they thought they could only dream of, and a gorgeous interior and exterior design, a DB9 is a dream car made reality. Therefore, it is understandable that DB9 owners want to ensure the longevity of their vehicle. This article aims to serve as a handy guide of how to maintain your DB9 dream car.
Why High Maintenance Practices are Important
Improves Safety
Ensuring your DB9 is well maintained helps ensure that you, other drivers, and pedestrians are safe when you operate your vehicle.
Increases Reliability/Performance
Maintenance helps increase the performance and reliability of your vehicle. By ensuring your DB9's parts are in full in working order, you are ensuring your car is reliable. By also keeping the parts in peak condition, you are allowing your car to perform at its very best.
Saving Money
By keeping your DB9 in great condition, you are also saving yourself money. You are likely to notice any issue quickly, which means any damage will likely be minimal and cheaper to fix. By keeping your car in top condition, you will also save money from refuelling. When your car is in optimum condition, you'll find you easily achieve the top end of your vehicle's predicted MPG.
Resale Value
Should you chose to resell your car, if it is better maintained, you're likely to get far more for it than a vehicle which hasn't been cared for. Of course, you'll never resell your car for what it was originally worth at first sale. However, when cared for, your car is likely to keep much more of its value and for longer.
Environment
Ensuring your car is up to standard can really help cut the harmful emissions caused by your DB9. A car with an ill-maintained engine or exhaust system can release far more toxic emissions than one which is well-maintained.
Minimizing Emergencies
A car that is well-maintained is highly unlikely to suffer from roadside emergencies, or indeed through part failure, involve itself in accidents. This not only saves you money from lack of repair bills, but also can help reduce your insurance costs through a no-claims bonus.
Maintenance Tips
You should take your car for a full service at least once a year, and in between that time, you should undertake your own regular maintenance checks such as those on the list below:
1. Tires
You should check your tires every 2 weeks, examining them for punctures, as well as the correct pressure. Pay attention to the tire wear also, as this might indicate a wheel misalignment.
2. Tool Kit
Insure you have an up-to-date tool kit in your car at all times. If you have a spare wheel, make sure you have the tools to properly fit it. Other items you might want to consider include a puncture repair kit and spare oil.
3. Check your Oil Levels
You should check your engine oil every 2 weeks and top it up as necessary. Be sure to contact a professional if you notice the oil dropping faster than normal, and ensure you change your oil as indicated by your owners manual.
4. Water
Every week, check your coolant level. When the temperature starts to drop, check your antifreeze level, too.
5. Windscreen
Give your windshield a glance over for signs for chips or cracks. If you notice a chip, no matter how small it seems, get it repaired fast, as they can grow into much larger cracks. You should check your bodywork while you do this also.
6. Lights
Check all of your vehicle lights once a week. Make sure that the bulbs haven't blown, that there are no cracks in the light casing, and that the lenses are clean.
Mark Douglas Motorworks
If you're a DB9 driver looking for the perfect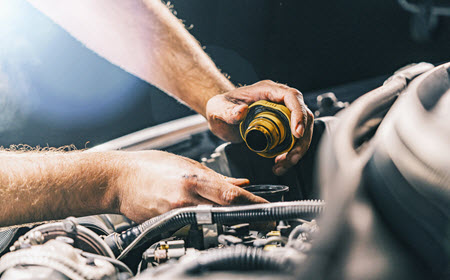 place to service your prized car, and you live in or around Orange County area, including: Mission Viejo, Lake Forest, Costa Mesa, Irvine, Huntington Beach, Laguna Hills and Laguna Nigel, CA, then no one is more highly recommended than Mark Douglas Motorworks. Specializing in European auto repair, and with not only a 100% satisfaction guarantee but also a 2 year/24,000 mile warranty on all parts and labor, you can rest easy knowing that your DB9 is in good hands.
* Aston Martin DB9 image credit goes to: falun.