Every vehicle requires ongoing care and maintenance in order to retain its value and uphold its performance standards; however, luxury vehicles like Aston Martins require a heightened level of care. If you're lucky enough to drive an Aston Martin, then chances are you deeply care about the quality of your driving experience, and therefore the quality of your car. Ongoing auto maintenance for these special vehicles necessitates hiring a shop that specializes in Aston Martins to ensure your car receives the best care possible. In this article, we'll go over why it's important to hire a specialist and basic tips that will help you maintain your Aston Martin.
Why it's important to hire an Aston Martin specialist
Aston Martin vehicles are special and unique; they have their own advantages and benefits over other cars, such as luxury and comfort. However, they also have their own unique drawbacks and common issues. It's important to hire an Aston Martin specialist to handle your ongoing repair and maintenance tasks so that you can best prevent and anticipate the common issues such cars may experience or be prone to. Any repair or maintenance will be executed to the highest degree, and with the highest level of skill. Furthermore, a specialist will have access to optimal quality replacement parts. Finally, hiring a specialist can save you money in the long run, with more accurate diagnoses and treatment results.
How to maintain your Aston Martin
Aston Martins are luxury vehicles, and therefore require a higher level of care than most cars. Therefore, it's important to make ongoing maintenance a priority in order to retain the car's value and your driving experience. Besides hiring an Aston Martin specialist to handle all of your repair and maintenance needs, it's helpful to know how you can best care for your Aston Martin. Here are 3 top maintenance tips for your Aston Martin that you may not have considered:
Protect the interior and exterior
The comfort and style of the interior cabin and the gorgeous shining exterior of your Aston Martin should be kept in excellent condition to uphold the luxuriousness this car exudes. The quality of care put into the exterior and interior of Aston Martins can help retain their value significantly as years go by, plus it keeps your car looking great! To best maintain the interior and exterior:
Park in a covered area
Keep the car clean and polished inside and out
Don't eat, drink, or smoke in the cabin
Tire maintenance
Keeping your tires in good condition is important for gas mileage and maintaining your car's suspension. Keeping an eye on your tire health can also be helpful for detecting performance issues in your Aston Martin, as uneven tire wear patterns can indicate other more serious problems. Here are a few things you can do to keep your tires in good health:
Perform wheel alignments, tire rotations, and wheel balancing
Maintain proper tire pressure
Observe tire wear patterns
Follow the car's maintenance plan
Staying on top of the routine maintenance tasks that the Aston Martin manufacturer recommends for your specific model and year is a critical step toward upkeeping your car. By adhering to the maintenance schedule, you can avoid many performance issues that drivers commonly experience. Here are a few things you can do consistently to retain your car's performance and value:
Oil changes
Ongoing inspections
Tune-ups
How we can help you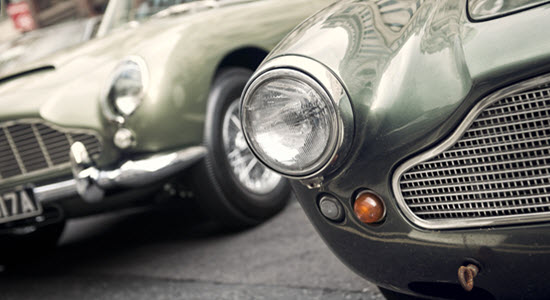 The Aston Martin specialists here at Mark Douglas Motorworks have extensive knowledge and experience working with Aston Martin vehicles from all over the Orange County area, including the cities of: Mission Viejo, Lake Forest, Costa Mesa, Irvine, Huntington Beach, Laguna Hills, and Laguna Nigel, CA. Taking care of an Aston Martin can seem like a daunting and expensive task, but we help to make it simple and affordable for our clients. If you would like to learn more about our shop and our qualifications, or would simply like to schedule an appointment with one of our knowledgeable professionals, please contact us today. We look forward to helping you maintain and enjoy your Aston Martin for years to come.
* Aston Martin V12 Zagato image credit goes to: Sjo.
* Aston Martin Headlight image credit goes to: imagefactory-studio.