There are so many things that new drivers need to know that can make owning a car overwhelming. From road signs to spot checks, it can often be confusing what you should know, and what you should be looking out for.
It is widely understood by most owners, however, that anything involving the braking system of a vehicle is an essential safety feature, and should be kept in the best condition possible. In this article we'll be exploring brake boosters, discovering what they are, and learning their importance within your vehicle.
What is a Brake Booster?
A relatively recent addition to modern vehicles braking systems, a brake booster is a round black canister, which houses the vacuums and valves needed for the braking process.
In terms of visualizing what a brake booster does for your car, think of it as doing the same for your brakes as power steering does for your cars manoeuvrability. Simply put, the pressure that is able to be housed within the brake booster, allows for effective breaking, with much less pressure needing to be applied to the brake pedal by the driver.
How does it work?
Depending on the size of your vehicle of choice, you may have a brake booster with one or two diaphragms. The main aim of these boosters is to increase the force that is exerted upon the brake pedal.
Traditional braking systems would usually solely rely on a liquid, known as brake fluid, applying pressure upon the breaks to bring the car to a halt. However, in some cases this would not be enough to completely stop the vehicle. With brake boosters however, the pressure can be multiplied and magnified to between 2 and 4 times the size of the booster diaphragm, allowing for swift and effective stopping, with little exertion from the driver.
When the brake pedal is pressed by a driver the shaft it is attached to is depressed, moving forward, which in turn thrusts a piston into the main brake cylinder. This allows brake fluid to pass through the system, building the necessary pressure needed to brake. By using the engines vacuum, brake boosters are able to give the pedal enhanced strength, which in turn counterbalances the high-pressure of the braking system.
Why is a Brake Booster Important?
One of the key factors that makes having brake boosters so important is the reduction of force required on behalf of the driver to bring their vehicle to a stop. This can help drastically reduce accidents, as the driver is able to react more swiftly with less effort. This difference may only be fractions of a second, but in regards to whether an event is a collision or a near miss, microseconds can be all that differentiates the two.
Driving a vehicle with brake boosters is also a large aid for elderly or more physically impaired drivers, as they do not need to apply much force to slow their car, thus reducing aches and pains from repetitive straining or motion. This same potential problem can be avoided by long distance drivers, or for individuals where driving makes up a large proportion of their job, reducing muscle fatigue.
Can I Add a Brake Booster to my Vehicle?
The answer to this question is yes, you most definitely can! If your car does not already feature brake boosters, a quality mechanic will be able to install them for you, and if you already have them, a mechanic will be able to inspect and maintain them too.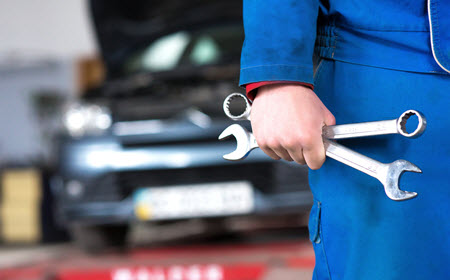 Having brake boosters gives you the peace of mind that in terms of slowing, your car is as safe as can be. Not to mention in terms of the ease of brake boosters offer, you're sure to notice the reduce in strain and ease of driving the next time you hit the road.
If you own a European or exotic car and are in the Orange County area, including Mission Viejo, Lake Forest, Costa Mesa, Irvine, Huntington Beach, Laguna Hills, and Laguna Nigel, CA, and are looking to upgrade your driving performance or maintain your brake boosters, then Mark Douglas Motorworks can offer the top quality results you desire. Avoiding the hassle of a dealership, the qualified automotive specialists at Mark Douglas Motorworks can offer you complete confidence in the performance and safety of your vehicle, with their expertise and quality services. Total peace of mind is also guaranteed as Mark Douglas Motorworks backs all our work with a 2 year/24,000 mile warranty, allowing you to drive off in a car that will break at just the tap of your foot.