Each Aston Martin is carefully designed to create an amazing driving experience for vehicle owners. Even though each model is meticulously crafted, there have been Aston Martin models that have had serious engine issues. If left unchecked, these engine issues can start out small and barely noticeable but will grow to affect the overall performance of the vehicle.
Paying for major repairs may not break your bank, but ensuring your Aston Martin remains in pristine condition is one of your responsibilities as an owner of this unique vehicle. Let's take a closer look at engine issues in your Aston Martin.
Sportshift Transmission Issues
Aston Martins have a special transmission called the Sportshift transmission. The purpose of this transmission is to be lightweight and help improve the efficiency of the vehicle. The Sportshift transmission was also designed to increase responsiveness. It also ensures maximum comfort for the driver because they do not have as great of responsibility when it comes to engagement with the clutch.
This style of transmission features a modified flywheel and clutch so the driver can shift easier. The purpose of this is to ensure that the driver has maximum control over the vehicle and enhance the overall performance of the Aston Martin.
With this specialized transmission found in Aston Martins, problems have been known to occur. The creators of Aston Martin were unable to provide as flawless of experience as was advertised, so many drivers experienced stalling or their vehicle would go into limp mode.
Limp mode occurs when the computer in the vehicle is alerted to a dangerous issue with the transmission, so it shuts off all non-essential parts. This gives the vehicle a better chance at making it back home or to a garage to be inspected.
The transmission is a crucial part of the engine that needs to properly function for the vehicle to run smoothly. If the transmission does not run, then there will be no driving your Aston Martin. This can be addressed by a trusted mechanic who has experience with Aston Martins.
Other Known Engine Issues in Aston Martin
Throughout the years, there have been other engine problems identified in a few makes and models of Aston Martin. While these engine issues do not affect all vehicles, it is still beneficial to be aware of them just in case they were to occur to your Aston Martin.
One such issue is the driver losing control of the steering. To keep the driver and the other vehicles around them safe, control over the vehicle has to happen at all times. The moment this control is lost, the situation becomes dangerous. This issue could occur if there is a lack of power steering in the system due to a leak or if there is looseness in the steering wheel itself that has been caused by worn steering rods.
A second engine issue that can sometimes occur in Aston Martin is a faulty powertrain. The powertrain is the parts of the vehicle that are responsible for generating power and then delivering that power to the road surface. In other words, the powertrain is responsible for the exceptional performance in Aston Martin. In regards to this engine issue, drivers reported that they were unable to control the amount of power that the vehicle created.
Fixing Engine Issues in Aston Martin
Not all garages are equipped to perform repairs on unique Aston Martin vehicles, which is why you should do your research before you bring it into any garage.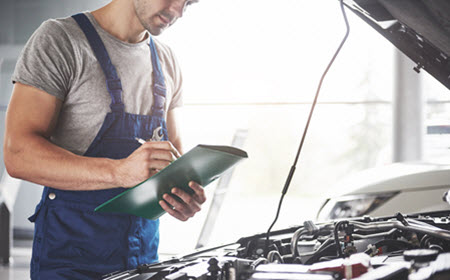 If you have noticed any type of engine issue that needs to be repaired, the best garage to take your Aston Martin to is us at Mark Douglas Motorworks.
We specialize in high-end vehicles, so all of our technicians have the certifications to work on your Aston Martin. We are easily accessible from the Orange County area, including Mission Viejo, Lake Forest, Costa Mesa, Irvine, Huntington Beach, Laguna Hills, and Laguna Nigel, CA.
Mark Douglas Motorworks ensures that your vehicle is repaired with the highest factory-grade tools and equipment and that your vehicle is always serviced in-house. One of our main focuses is customer service, so once you leave our garage, you will leave knowing that you received the best service available to you and your vehicle.