Vehicle infotainment systems have evolved through the years. The systems were not always touchscreens and keypads. They developed from car radio systems to cassette tapes, CD players, and now, the massive infotainment systems we know of today. Maserati also followed the gigantic infotainment system trend by introducing a larger infotainment system in their Ghibli and Quattroporte.
The Maserati infotainment system provides entertainment and information to the driver and other vehicle occupants. Since the systems also deliver important information to the driver, its failure impacts vital vehicle functions. Some features include the GPS navigation, backup camera, and voice-activated calling and texting services. These will cease to operate if the system breaks down.
Your Maserati's infotainment system is more than a touchscreen and should be kept in good shape. Discussed below are some causes of infotainment system failures in your Maserati and how you may deal with such issues.
Overheated amplifier
Several factors may cause the amplifier to overheat. It may be due to resistance fluctuations or insufficient airflow. Your infotainment system amplifier may overheat if you tune the recorder volume too high. An overheated amplifier could cause your Maserati infotainment system to enter protection mode, which prevents it from turning on. The amplifier automatically shuts down to safeguard the infotainment system's components from further damage.
Excessive overheating may result in a blown fuse and valve. To deal with this issue, allow your Maserati infotainment system to cool down before turning it on again. Avoid turning the amplifier volume too high to prevent it from overheating.
Power source failure
Your Maserati's infotainment system is connected to a power source and may break down if there is a malfunction with its power source. A power source failure may hinder the infotainment system from powering up. The power source failure could have resulted from a blown fuse, blown valves, wiring issues, or lack of power.
You can use a multimeter to test the wire fuse by placing it on the metal cover of the fuse. If you notice a reading on the multimeter, then the fuse may be fine. If there is no reading on the multimeter, it may imply that the fuse is blown out. It may also indicate that your Maserati radio ground connection is faulty.
Common radio ground connection faults include loose wires or rust. You may troubleshoot this issue by replacing or reconnecting the radio ground connection. It is advisable to contact an expert automotive mechanic to help fix this issue.
Damaged or broken antenna
One common Maserati infotainment system failure is a damaged or broken antenna. Your vehicle's radio may be unable to receive signals, and you won't be able to listen to any station if the antenna is broken. If your radio's antenna is too short or long, you may require an antenna tuner for attenuating the reactance and making it compatible with the frequency you seek.
To troubleshoot a damaged or broken antenna, remove the damaged antenna by loosening the bolts. Take away dirt or any broken pieces and install the antenna using aluminum foil. Remove the antenna mast if broken and wrap the antenna in masking tape when reattaching it around the aluminum foil. If this doesn't work, you should contact a professional to properly examine the issue.
Dead battery
Your Maserati's infotainment system utilizes energy from the vehicle battery. Several systems in your vehicle rely on your battery and leaving any of such components running could drain the battery. If your battery is drained, your infotainment system may no longer work. Apart from having your battery drained by vehicle components, an idle battery may also lose charge over time.
It is crucial to check your Maserati's battery if you notice it drains quickly. This could be due to an electrical issue in your vehicle. You should contact a professional to help diagnose the issue and get it fixed.
Mark Douglas Motorworks for all your Luxury and Exotic Vehicles
Mark Douglas Motorworks utilizes experienced technicians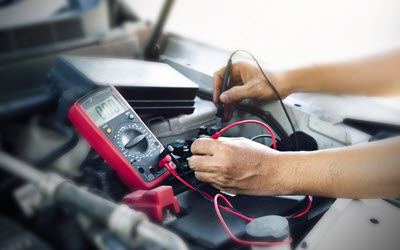 with unrivaled attention to detail. We know that each vehicle requires services customized to their make and model. We provide impeccable service to luxury vehicles, including Aston Martin, Bentley, Ferrari, Rolls-Royce, and Maserati. Our range of services includes AC repair, brake service & repair, clutch repair, check engine light maintenance, oil change services, engine repair, and more.
We are located in Mission Viejo, CA and provide professional repair services to drivers in Laguna Hills, Huntington Beach, Irvine, Costa Mesa, Lake Forest, and Laguna Niguel. Please call or visit our shop today for your next service appointment.