Ferrari is recognized all over the world for its high-performance engine, sleek body style, and its reputation. With the Ferrari 812 Superfast, they boast that it is the most powerful and fastest road-ready car they've ever built. Their stats from their testing show its 12-cylinder engine delivers 789 horsepower, propelling it to 0-62mph acceleration in a mind-blowing 2.9 seconds. It also boasts a top speed of 211 mph.
It is understandable why these vehicles are highly coveted for car enthusiasts around the world. A Ferrari isn't something you neglect, and you'll want to know how to keep it running perfectly as if it was fresh off the manufacturer's floor.
The fuel line is an important component of your car. It is located in the fuel tank and specifically connects the gasoline to the engine. The fuel pump releases pressure that forces the fuel to move through the pump into the engine. While a car is in motion, this is constantly happening, since your engine needs fuel to combust. As this line is constantly in use when the engine is on, there are bound to be some issues with it, including low pressure.
Causes of Low Pressure in Your Ferrari's Fuel Line
There are specific causes of this problem, so let's take a closer look at each one to narrow down your Ferrari's fuel line issue:
A clogged fuel filter: The fuel filter is designed to catch small particles during travel, preventing the fuel from becoming contaminated. After a while, small particles build up to the point where the filter gets clogged. This prevents fuel from traveling to the engine properly. The filter can be cleaned but the best solution is to replace it.
A bad fuel pump: This is the most likely cause of low pressure in fuel lines. If the fuel pump is damaged, it will not be able to push the correct amount of fuel to the engine. The engine will overheat and problems can multiply quickly in such a high-performance system. It's important to bring this issue to a trusted Ferrari professional for a proper diagnostic test and replacement.
A bad fuel pressure regulator: This regulator is designed to track the right amount of fuel pressure. If it is not working, there's no chance the engine will get the fuel it needs to perform on your demand. You might notice this is the problem if you see black smoke near the exhaust or feel a reduction in power and control over the vehicle.
A stuck fuel injector: This component plays the very important role of covering the engine in fuel. It works like a spray, shooting out a constant, even layer of fuel. When this does not work properly, your engine is at risk of misfires. Some drivers will tell you simply to use a fuel injector kit, but if your injector is faulty, a kit won't repair it. Bring your Ferrari to our trusted mechanics who know your model and its intricacies.
Common Symptoms of Low Pressure Fuel Lines
Many of the causes of a low pressure fuel line can be recognized by looking out for these symptoms below. If you notice any of them in your Ferrari, bring it in right away:
Unresponsive throttle: With fuel low pressure, the correct amount of gas isn't going to the engine. As a result, the gas pedal may not be reliable.
You may have difficulty starting the car or with engine stalling: This is a warning sign that the engine isn't getting the proper amount of fuel. If your engine is struggling, you need a professional inspection and diagnosis to detail the problems happening with your high-performance engine.
Turbo lag: This occurs when your Ferrari hesitates right before the turbocharger takes over. That hesitation can be caused by a low pressure fuel line. If the turbocharger isn't getting the punch it needs, your engine performance will suffer.
Mark Douglas Motorworks: Stop by Today
At Mark Douglas Motorworks, we value excellence in service, repairs, and replacements. We are a family-owned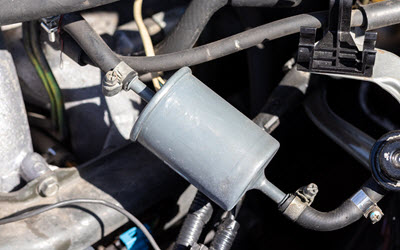 shop with 15 years of master workmanship in the automotive business. You can trust that we will take care of you. We will provide you with a detailed inspection, a written estimate, and updates on your car's progress when you go with our shop for service.
We serve clients in the greater Orange County area, including Mission Viejo, Lake Forest, Costa Mesa, Irvine, Huntington Beach, Laguna Hills and Laguna Niguel, CA. Allow us to earn your business to you can return to us for routine maintenance and any further service of your Ferrari to keep it running like new.
* Ferrari Car image credit goes to: RAUL RODRIGUEZ.