BMWs are well-engineered vehicles with an intricate design and state-of-the-art technology. While BMWs are high-quality vehicles that are known for their long lives and excellent performance, they do have flaws just like any other vehicle.
BMWs are known for their N52 engines. One common problem that BMWs are known to have is lifter ticking in the engines. This is a problem that can be difficult to take care of without the proper experience and skills.
Why BMWs Experience Lifter Ticking
The N52 was thought to be one of the most advanced engines of its kind when it was introduced. Not long after BMW introduced the engine, it was learned that the engine could produce a ticking noise that was of concern. The problem is known to worsen after the car has acquired 50,000 miles.
With more than a decade of producing this engine and the problem persisting, the issue has continued to be widespread and often, drivers just try to ignore the problem and don't have it corrected. This problem is an issue caused by the engineering and design of the hydraulic valve lifter. Unfortunately, even maintaining to the regular maintenance schedule of your vehicle will not prevent your N52 engine from experiencing lifter ticking.
Diagnosing Your BMW's Lifter Ticking
It is not uncommon for cars to make sounds or noises, but they can certainly be concerning when you're not sure what it is.The lifter ticking sound from a BMW is more noticeable when you drive on a short trip through town and you encounter a lot of stop and go traffic. The noise is also more prevalent when it is colder than usual outside.
This problem is traceable back to the N52 engine's hydraulic valve lifter. The issue can be difficult to diagnose without the proper experience and knowledge necessary to handle BMW engine diagnostics and repairs. You don't want to take your vehicle to a shop that will do trial and error or hit and miss diagnostics trying to get to the root of the problem. You also don't want to end up paying for unnecessary parts and labor until you get the problem fixed.
Because this is a common problem caused by the hydraulic valve lifter in many BMWs, having a mechanic experienced in BMW engines can make a big difference when it comes to diagnosing the problem.
What is the Function of a Hydraulic Valve Lifter?
The hydraulic valve lifter is a component that is poorly engineered and designed. Because of the poor design, it causes the undesirable and annoying ticking noise experienced by many BMW drivers. The valve lifter is supposed to allow for the contraction and expansion of the different engine parts when the temperature inside the engine increases. This is to make the needed room for the parts to grow. This feature is important as there is limited room for this underneath the car's hood.
After having been broken in, the hydraulic valve lifter starts causing problems that lead to the unbearable ticking noise. The noise is usually because of a problem with the lubrication, and the part doesn't receive adequate oil to let it continue functioning as it should.
Addressing Lifter Ticking Issues in Your BMW
You don't want to go to a shop where they will just do a temporary fix that won't take care of the problem. Every problem with ticking issues in your BMW engine should be treated individually, and diagnosed correctly to ensure that proper treatment. You need a mechanic who will approach the problem with an open mind and creativity.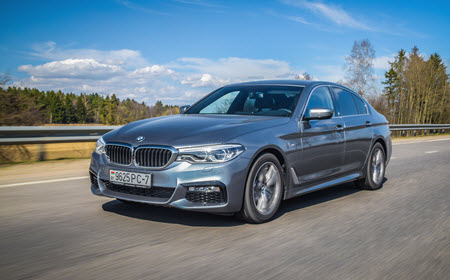 You should always use higher quality parts for best results and follow the maintenance schedule that is recommended for your vehicle.
Oil changes are especially important, because that is when lifter lubrication is optimized. When you first notice there is a problem with your BMW and hear lifter ticking noises, you should take your vehicle to a qualified BMW repair facility. For quality BMW repairs from a skilled technician, you can rely on Mark Douglas Motorworks in the Orange County area, convenient to Mission Viejo, Lake Forest, Costa Mesa, Irvine, Huntington Beach, Laguna Hills, and Laguna Nigel, CA. Call (949) 472-8842 to schedule service.
* BMW 5-series (G30) image credit goes to: y_carfan.