Land Rovers are tough vehicles, built for endurance and durability under especially strenuous road conditions. They're designed to be able to undergo and withstand excessive suspension strain and maintain functionality under rough circumstances. Unfortunately, that doesn't mean that they're immune to more mundane issues occurring, such as parking brake failure.
When we say that parking brake failure is "mundane," we simply mean that the issue might not be related to your Land Rover's design, per se, but due to the unpredictable factors of car wear and tear. All cars, including Land Rovers, are susceptible to parking brake failure—especially as they age and undergo daily use. If you're experiencing issues with your Land Rover's parking brake, it's important to bring it to a specialist for assessment as soon as possible, as this is a concerning safety risk that should not go overlooked for any extended period of time.
The Importance of a Well-Functioning Parking Brake
As we mentioned before, your parking brake is essential for the safety of you and your car. One might think that a parking brake only needs to be employed when parking on a hill or a steep area where vehicle rolling is a potential risk; this is only half-true. Yes, it is important to engage your parking brake on hilly inclines, but it's also important to engage it when parking on regular streets and roads. All roads have some kind of incline, usually for optimal water drainage. Your parking brake is a safety measure that keeps your car from rolling, potentially hurting a pedestrian or from running into another vehicle, causing material damage.
Common Signs that Your Parking Brake isn't Working Properly
There are common signs that you should look out for to indicate that your parking brake isn't working properly. Although, it is safe to assume that you might be able to simply "feel" the difference in the parking brake once it begins to fail. It's a good sign if you're aware that something doesn't feel right, but it's important to remain aware of the other signs your Land Rover might express to tell you that something's not quite right.
Does Not Engage or Disengaged Fully
When we say that you'll feel a difference in your parking brake's performance, this is what we mean. When the parking brake doesn't engage or disengage fully, it becomes apparent to the driver. For instance, you might have a really tough time unlocking the parking brake, or you might even notice that the car continues to move slightly when the parking brake is seemingly fully-engaged.
Parking Brake Light Illuminates in Dash
One of the clearest indicators that your parking brake is failing is the illuminated parking brake light in your dashboard system. This light comes on when the car's control unit senses that the parking brake poses a safety risk to the car or driver. It's important to take this warning sign seriously and bring your car in for an inspection right away.
Late Resistance
The tensioner or parking brake cable that makes it possible for the car to be at a tight stopping position when the brake is fully engaged can become worn-out or compromised with ongoing use. In other words, the more often you use your parking brake, the more "stretched out" the cable becomes over time. You might need to have the cable replaced, or at the very least inspected when you experience a late resistance or engagement when pulling the parking brake lever.
Why It's Important to Hire a Specialist for the Job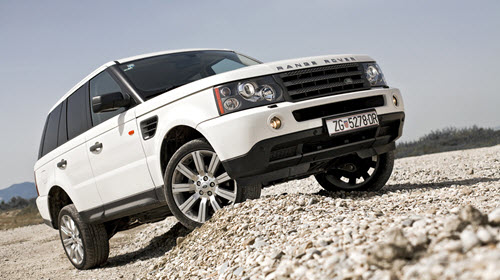 Since Land Rovers require a heightened level of care and expertise, it's best for you to bring your car to a Land Rover specialist when you encounter parking brake issues. The professionals here at Mark Douglas Motorworks have served numerous Land Rover clients in the areas of Orange County, including: Mission Viejo, Lake Forest, Costa Mesa, Irvine, Huntington Beach, Laguna Hills, and Laguna Nigel, CA, for years. We have a special interest in European imports like Land Rovers, and we make it our mission to provide service and expertise that matches the integrity of such brands. As the leading dealership alternative in the area, our prices are competitive and our experience is unrivaled. If you're dealing with parking brake issues, or would like to schedule a tune-up or inspection, please contact us directly—we look forward to restoring your Land Rover to its optimal level of performance.
* Range Rover Sport over Crest image credit goes to: supergenijalac.