Maintaining your Bentley is a responsibility that comes with responsible car ownership. If you are the proud owner of a Bentley, you would confirm that these vehicles are among the greatest ever made in terms of appearance, comfort, elegance, and lifespan.
Bentley automobiles are distinguished by their exceptional performance on the road, which is another characteristic. They also need high-quality upkeep to match their degree of complexity for these reasons. Your Bentley model may encounter several problems in the engine if regular maintenance and care are not given to it.
Common Problems with the Engine of Bentley Cars
Problem with the Suspension System
Bentley uses an air suspension system as opposed to other automobiles that use fluid in their suspension systems. The distinction is that an electric or engine-driven pump provides the power for this kind of suspension.
Your vehicle's front end may be a bit lower than the back when the suspension system is wearing out. If your automobile is making a banging noise from the front, you may have a complete suspension breakdown. The best course of action in this situation is to tow your car to our auto center for inspection. Similar to this, a pressurized deflected air spring might seriously harm the compressor.
Failure of the Brake Light
One of the most frequent problems we see with Bentley cars is brake light failure. Even though this issue is rather typical for this model, the brake light can be replaced. Usually, to fix the problem, we have to replace the entire device but it can be done easily.
Brake Hose Replacement
According to Bentley, the brake hoses must be replaced by the vehicle's owner at least every five years. All Bentley models must meet this requirement to keep it in its best condition. Unfortunately, the GT's high-end design necessitates frequent repair of this component.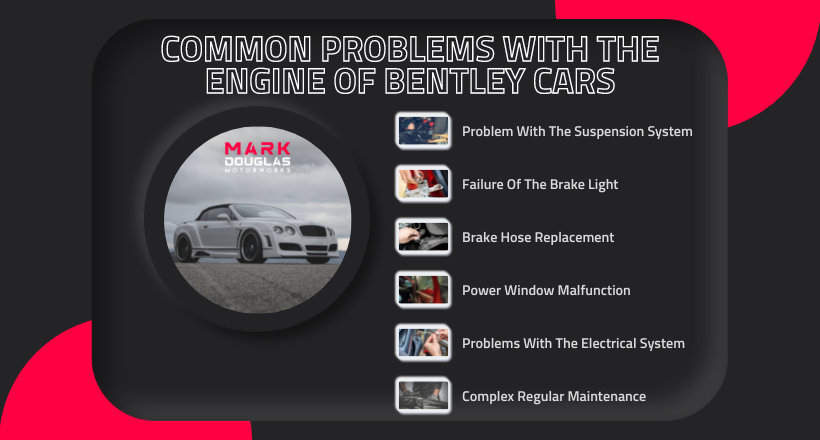 Power window malfunction
The Bentley power windows occasionally stop working, which is another common issue. A typical indication of this issue is the hissing sound the windows make. You might need to inspect the windows if you notice this noise. The replacement of the motor may, in some situations, resolve this problem. In the worst situation, the device might need to be completely replaced.
Problems with the electrical system
The system may occasionally have electrical issues. This failure may cause erroneous symbols to show up on the dashboard. In this situation, you may wish to have our Bentley electrician evaluate the electrical system rather than ignore these warning indicators.
Complex Regular Maintenance
Even though all vehicles need routine maintenance, the Bentley is somewhat unique. The issue is that there is not enough room in the engine compartment to provide simple access to various parts, such as a spark plug. Consequently, even for routine maintenance, you must use the help of a qualified technician.
If you notice any of the following engine problems in your Bentley, you must take it to our experienced professional repair shop, which specializes in fixing Bentley cars. Our mechanics will run a diagnostic test to discover the cause of the problem and recommend the best repair plan to get your Bentley back on the road again.
No matter how minimal the issue might seem, postponing your visit to a repair shop might lead to a more serious problem that might cost you a lot of money to fix. Another important thing to note is that regular maintenance goes a long way to ensure that your engine is in the best condition for a longer time.
Visit Mark Douglas Motorworks for All Your Bentley's Engine Issues
Your Bentley will be well taken care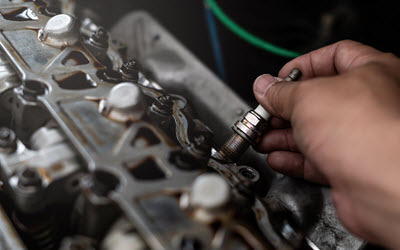 of at Mark Douglas Motorworks. We provide service to our customers living in the Orange County area, such as Lake Forest, Huntington Beach, Irvine, Costa Mesa, Mission Viejo, Laguna Niguel, and Laguna Hills, CA.
If you want to fix any engine issues in your Bentley, Mark Douglas Motorworks is the best auto repair shop for you! Our certified mechanics make use of high-grade tools, and they will provide the best care for your car. Visit our repair shop or website to set an appointment today or give us a call at your convenience.
* Bentley Car image credit goes to: nrqemi.