Caring for your luxury car means taking the necessary steps to keep it running smoothly. When driving an Aston Martin, this includes changing your premium oil, rotating your tires, performing routine alignments, and making sure that the oxygen sensors are operating properly.
If you are located in the Orange County area including Mission Viejo, Lake Forest, Costa Mesa, Irvine, Huntington Beach, Laguna Hills, or Laguna Niguel, Mark Douglas Motorworks is the best exotic automobile specialist to replace those oxygen sensors for you.
What are vehicle oxygen sensors?
The oxygen sensors in your Aston Martin are imperative to the overall health and performance of your car. Though very small and nearly the size of a spark plug, the oxygen sensors in your vehicle determine the amount of oxygen in your exhaust. This is done by the protrusion of the oxygen sensors into the car engine's exhaust stream, allowing the engine to adjust how much fuel is being used at any given time.
Allowing to adjust fuel usage ensures that the engine is running at its full efficiency, extending its lifetime in the long run.
Knowing When to Replace your Oxygen Sensors
It is important not to wait until noticing performance problems before opting to replace your oxygen sensors. Changing them routinely and preemptively is the best way to avoid any long term damage to your Aston Martin's engine or steering system. If you do end up waiting longer than expected, your first warning sign of poorly functioning oxygen sensors might include:
Idling on acceleration. If you attempt to accelerate but end up idling before the initial propulsion, this could be a sign that your car is stalling due to improper fuel usage.
A loud chugging noise while idling. A chugging or rumbling sound, especially while idling or while paused at a stop light, can mean that there is an exhaust issue in your Aston Martin. An exhaust problem also often points to the need for replacing your oxygen sensors.
Starting or ignition issues. If it takes you a few turns of the key to start the ignition, it could mean there is a problem with your engine. Many times, Aston Martin engine issues are caused by a malfunctioning of the oxygen sensors.
Sensor light on your dash indicates a problem. If the sensor light on your dashboard is illuminated, it is important to ask your certified repair technician about your oxygen sensors as they could be due for replacement.
Sudden increase of fuel consumption. When your oxygen sensors aren't being properly activated, it can cause the improper use or allocation of fuel. This results in a sudden increase of fuel consumption in your Aston Martin that is not typical for the car. Replacing the oxygen sensors can oftentimes rectify the problem.
If you notice any of these sounds and sensations while operating your Aston Martin, you should replace the vehicle's oxygen sensors as soon as possible.
How to Extend the Lifetime of your Oxygen Sensors
One of the best ways to ensure that your oxygen sensors are both living up to their full potential and operating properly is to extend their lifetime by taking the following precautions.
Make sure that your interface electronics are properly and fully set up. This will ensure that there are no connection errors or wire slips, resulting in oxygen sensor failure.
Knowing whether your vehicle will be a summer or winter vehicle, as well as the region you will be driving it in, can help you figure out which type of weather will be standard for this vehicle. Knowing how the weather affects the oxygen quality and temperature will give you the knowledge to check to make sure your oxygen sensors are working correctly.
Protect the sensors from gases and chemical spills; this includes keeping other aspects of your vehicle working properly. If you have a battery leak or a chemical spill from within the hood of your vehicle, the toxicity of the liquid could leak onto your oxygen sensors and damage them, resulting in a poorly-running vehicle.
Keep a clean exhaust pipe. Keeping a relatively clean exhaust pipe can deter dust and other contaminants from slowing down the efficacy of your oxygen sensors.
A Reliable Automotive Shop for your Aston Martin
Whether you are driving from Mission Viejo,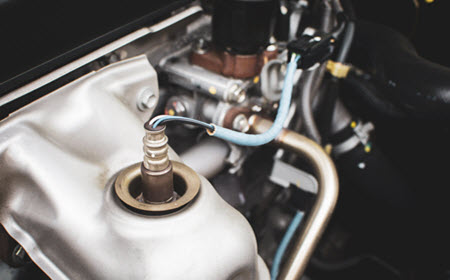 Lake Forest, Costa Mesa, Irvine, Huntington Beach, Laguna Hills, or Laguna Niguel, Mark Douglas Motorworks will take great care of your Aston Martin. We are rated number one in exotic automobile repair and service.
Mark Douglas Motorworks is one of the most dependable service shops in Southern California, knowledgeable in the repair and service of Aston Martins, Ferraris, Bentleys, and Maserati luxury models. Call us today for service and maintenance questions or to make an appointment.