The key to optimal performance of your Maserati is regular maintenance. This reduces the probability of breakdowns, which could inconvenience you at a time you least expect. Regular maintenance will ensure excellent performance, reduced repair and fuel costs, improved safety, maintains car value and saves you a lot of time. We have elaborated below on the importance of regular tune-up for your Maserati.
Excellent Performance Without Interruption
If maintained regularly, your Maserati will be in good condition at all times and you will stay free of worries. Safety, performance, and efficiency standards are what you will get from your car. Maintaining your Maserati regularly is vital to keeping it in good condition, ensuring the safety, efficiency and performance standards you come to expect of it.
Reduced Repair and Fuel Costs
Regular maintenance helps reduce the running expenses of your Maserati, such as fuel and repair costs. Organized check-ups allow you to identify issues early enough and repair them before they culminate in a bigger thing that would cost you a lot of money.
A Maserati is a high-end car, and major repairs might prove to be very expensive. Regular maintenance will identify simple problems like oil leaks, worn-out tires which could lead to expensive outcomes. You will save on your fuel with a functional transmission and proper compression because your vehicle will be efficient.
Improved Safety
Minor problems like brake fluid leaks, worn out and under-deflated tires, and faulty indicator lights could lead to very serious accidents and to some extent loss of life. Imagine faulty spark plugs with engine performance problems while merging onto a busy highway. This is a danger easily avoided by regular maintenance.
A well-maintained car will give you peace of mind and confidence driving anywhere and anytime be it day on in the middle of the night. Regular care of your car by checking the systems that might develop problems takes away the risk of dealing with a more costly and time-consuming issue down the road.
Saves You Time
Larger issues that could keep you in the garage for hours or even days can be avoided by maintaining a regular tune-up of your Maserati. A major engine issue could take days without your car in order to repair it with parts shipped in. This inconveniences you and wastes time you could have spent on something else. Considering the value of time nowadays, you never want to waste a minute of your time.
Maintains Car Value
A car is a dreadful investment, its value depreciates each day. If you are planning on selling or trading in your vehicle in the near future, then you should ensure you tune it up regularly to maintain its integrity. Buyers will ask specifically for maintenance records to ensure that the vehicle is well cared for and in good condition. The better you take care of it now, the more resale value you'll get later.
Prolongs the Vehicle's Life
Consistent wear and tear can shorten any car's lifespan. Just imagine what faulty breaks or a damaged engine can do, not to mention rust and poor maintenance. Regular servicing can prevent any of these from happening. It can even extend your vehicle's life and help you get the most out of your investment.
Mark Douglas Motoroworks for Your Maserati
If you notice a drop in fuel mileage, stalling, rough idling or jerking when your car shifts gears, don't hesitate to make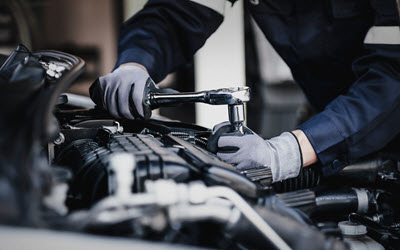 an appointment with us at Mark Douglas Motorworks. We serve all of the Orange County area, including Mission Viejo, Lake Forest, Costa Mesa, Irvine, Huntington Beach, Laguna Hills and Laguna Niguel, CA.
We have over 15 years of experience in providing top-quality service and peace of mind for each and every customer. Under the captaincy of Mark Douglas, who is a factory-trained and certified Master Technician with decades of experience working with exotic cars, we provide unparalleled service to our customers.
Our technicians have certified experience for your make and model, and our attention to detail is unrivaled. We pride ourselves in using the highest factory-grade tools, equipment, and materials that ensure your car is receiving the same level of service it would at the dealership. We specialize in Maserati, Aston Martin, Bentley, Ferrari, and Rolls Royce makes and models. Come visit us at our location on 23255 Madero in Mission Viejo, CA or give us a call today.
* Maserati Car Logo image credit goes to: D. Lentz.