Nobody wants to have their car battery fail them, whether in a short joyride or in a very important business trip. Without batteries, your beautiful Aston Martin will not start. The battery is there to provide electric current to the starter system. Battery issues are a very big deal, as improper maintenance will leave you with a regrettable loss. Your car battery should conveniently last you about 3 to 4 years.
Let's take a look at a couple of different types of car batteries:
Electric Hybrid Cars
The batteries in these cars are high voltage batteries that can sometimes come together with an automotive battery, which acts as an auxiliary, delivering about 12 volts to mostly the vehicle accessories. The auxiliary battery is not charged by alternator, but a DC to AC converter is used to step down the high voltage.
Gasoline and diesel engine
This is the most common battery type. Igniting a vehicle uses very little of the battery power, and the battery is made to supply maximum current for a short period of time. This is why it is called a starting, lighting, and ignition (SLI) battery.
Gasoline engine cars also have a charging system, and in case of inadequacy, power can be drawn from the battery. The battery is usually lead-acid batteries that are somewhat dormant while the engine is running, as the car uses power from the alternator.
How To Care For Your Aston Martin Car Battery
Your battery requires constant maintenance to get the best of your money's worth. In a case of damage or problems with the battery, the safest bet will be to take it to the professionals for proper service, but regular maintenance can be done with the following tips:
Make sure to always keep the cables clean and also wipe off any corrosion from the battery terminals.
Always check the battery condition and charge to know when to take it for servicing or a change.
Make sure to check the acid/electrolyte level in the battery.
Check for damages to the battery cables and the battery itself to prevent explosions.
Do not overcharge your battery.
Make sure to not leave your car without driving for too long as it can reduce the lifespan of the battery.
Make sure to change your battery every four to five years.
Causes Of Battery Problems in Your Car
Your Aston Martin is a pure beast and is made to give you the best thrill possible. It is also durable enough to give you very few problems during use. As good as the car may be, it is not invulnerable to battery problems, which can be caused by a number of things. Here are some of the causes of battery problems:
Old battery: As common as this may be, many car owners still fall for this issue and it can leave you stranded in some unwanted places. The best thing to do is to meet the professionals for a quick battery change.
Extreme weather conditions: Really hot or cold weather can affect the chemical reactions in your battery. Very cold weather will reduce the rate of reaction while very hot weather will increase it and thereby lead to quick drainage. When this happens, bring the battery to our professionals for a quick inspection.
Forgetting to turn off your headlights or dome light: This is quite a common occurrence and can send you to the repair shop in a short while. So always check your car after it is parked.
Too many short drives: This can easily damage your battery as your SLI Aston Martin battery is made to deliver maximum current with every ignition. The best course of action is to bring your car and battery for regular inspections.
Corroded or loose battery connections: In this case, you can clean up the corrosion with baking soda and water, or come into our shop where we will clean and inspect your battery for you.
Mark Douglas Motorworks is your Battery Superhero
If you want the best for your battery in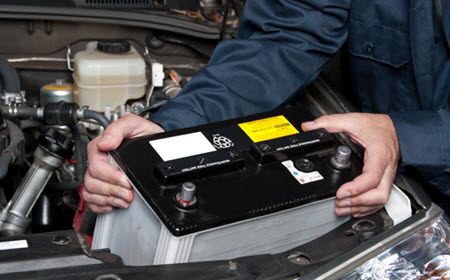 the Mission Viejo area, Mark Douglas Motorworks is the best place to go. We understand the type of maintenance your Aston Martin needs, and we are here to help you. With over 15 years of experience tending to exotic and high-end cars, we provide top-quality services and professionalism to every customer. We also have a team of well-trained and certified Master Technicians that are well capable of giving you the best.
We are also located at Lake Forest, Costa Mesa, Irvine, Huntington Beach, Laguna Hills, and Laguna Niguel in California. Contact us now for help or to speak with our staff at 949-472-8842.