Aston Martin models are highly coveted by car enthusiasts worldwide, yet they still experience problems occasionally. In particular, Aston Martins are susceptible to premature or unexpected brake wear, which can pose significant safety hazards to drivers.
There is no need to panic if you own an Aston Martin, as this problem is not specific to only Aston Martin cars, and with the proper maintenance routine, you can avoid this issue. To help owners understand this issue better, we will discuss how to recognize brake problems, apparent causes of premature brake wear, and how best to prevent the issue from developing besides selling your vehicle.
Possible Causes of Premature Brake Wear in Your Aston Martin
There has been no acknowledgment from Aston Martin of any error in its brake system or design; yet, drivers of Aston Martin cars continue to report premature wear of their brake rotors and pads-requiring expensive repairs more frequently. There are several potential causes of sudden or unexpected brake wear, and some of them may/may not apply to your AM model.
Damaged Slide Pins: There must always be a smooth and even gliding motion of the caliper. This, however, is impossible if the slide pins are corroded or damaged, which is usually the case with flood-damaged or old vehicles. The caliper may not slide smoothly, leaving it slightly off-center. Consequently, part of the pad will be in constant contact with the rotor, which will result in premature brake pad wear.
Poor Brake Maintenance and Servicing: There is a possibility that the mechanic you choose to fix your Aston Martin's brakes might be performing the work poorly. It is important to note that inefficient brake pads will cause rapid wear, resulting in premature rotor wear. Moreover, improperly applied or aligned brake pads can lead to uneven wear and poor performance.
Driving Conditions and Habits of Individuals: Even though this comes last, it's the most predominant cause of premature or sudden brake wear. To be objective, observe your braking behavior during a routine drive in your Aston Martin. For example, if you detect that you spend a lot of time in heavy traffic, you are probably applying the brakes often, which may include hard braking. You may drive downhill for long distances, which can cause wear and tear on the brakes. Driving conditions simply mean specialized care for those components which endure more wear and tear.
How to Maintain Your Aston Martin's Brakes
Wear on brake pads and rotors is normal, and it is common to need to replace them on an intermittent basis. It is essential to remain aware of several signs that may indicate that your brakes are malfunctioning to guarantee you and your car's safety.
As part of the standard rotor or brake pad wear, the following warning signs can be noticed:
Strange noises when applying the brakes
Vibrations in the brake pedal
Reduced brake responsiveness
Signs of visible wear
It is highly recommended that whenever you have your tires rotated or serviced, you should have your brakes inspected as well, as it is most efficient to ensure that your brakes are functioning as they should when the tires are off the car.
Visit Our Aston Martin Specialists at Mark Douglas Motorworks
At Mark Douglas Motorworks, we provide quality auto repair and maintenance services to Aston Martin drivers of Orange County and its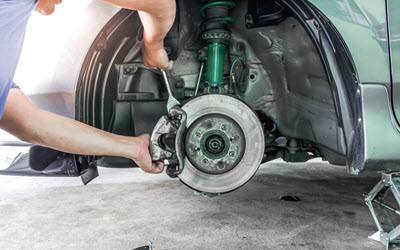 surrounding areas, including Huntington Beach, Irvine, Costa Mesa, Lake Forest, Laguna Niguel, Laguna Hills, and Mission Viejo, CA.
With our immense knowledge and expertise in the exotic and luxury automobile industry, such as working with Aston Martin vehicles, we have provided excellent service and maintenance to our clients! By taking a proactive approach to automobile maintenance, we provide our clients with affordable, consistent, and reliable services, saving them the cost of extensive repairs down the road.
It is important that you thoroughly read your owner's manual for your vehicle to gain an understanding of it and knowledge of your car and its needs. Having routine maintenance will help preserve your Aston Martin, or any European vehicle. Also, come by our shop for an assessment if you have concerns about your brakes or other components. We're here to keep your car performing it's best to you can enjoy it for years to come!