When you own a Ferrari, you expect the highest-level of performance each time you slide behind the wheel. When that experience is lacking due to steering issues, it can be frustrating.
With a wandering steering shaft, there is more at stake than just the feel of the drive. This bothersome issue can also compromise the safety of your vehicle.
Upon noticing a wandering steering shaft issue, it is important to take your Ferrari into your trusted shop at your earliest convenience to get you back to driving smooth and safe. This article aims to walk you through what it means and feels like to have a wandering steering shaft, how to prevent that issue from happening again, and where you can go to get your Ferrari professionally serviced.
Identifying a Wandering Steering Shaft
Before understanding how to properly diagnose a wandering steering shaft, it is important to understand how one should work. A steering shaft keeps the steering gearbox and steering wheel connected through the use of two universal joints. When you have a wandering steering shaft, it means the shaft or joints have deteriorated or been damaged in some way.
Symptoms of a wandering steering shaft can manifest in many different ways. Check out the list below for some of the more recognizable symptoms:
Strange sounds: If you notice an odd sound originating from the steering wheel, it is likely there is an issue with the steering shaft.
Trouble turning the wheel: This is a dangerous symptom of a wandering steering shaft. If the steering wheel feels like it's locking up, pull over and call for a tow to a trusted repair shop.
The tilt for the steering wheel is loose: The tilt allows you to customize the position of the wheel so that it is more comfortable for the driver. If this function seems loose, there may be a problem with the steering shaft.
Steering wheel does not center itself: When you use power steering, the wheel should go back to the center point on its own. If it does not do this, it is likely a faulty steering shaft that needs to be corrected professionally.
Constantly having to correct your steering while driving: If you notice that your car is pulling slightly to the left or right when you are attempting to drive straight, it could be indicative of a wandering steering shaft problem. This is most noticeable when driving on the straight highway at a high speed. Needless to say, this is a danger to everyone.
Upon noticing any of the above symptoms, you should take your Ferrari into the repair shop at your earliest convenience. This is not something you want to attempt to fix at home due to the risk of inflicting additional internal damage or making the problem worse. Once repaired, driving will be safe and enjoyable again.
How to Help Prevent the Issue from Recurring
A great way to reduce the risk of any problems occurring with your vehicle is by keeping up with regular maintenance. Unfortunately, some parts of your car have a lifespan, and it is only a matter of time before they will need to be fixed or replaced. However, with regular checkups, you can catch problems early and extend the life of the intricate components of your Ferrari.
Where You Can go to Get Your Ferrari Serviced and Repaired
Mark Douglas Motorworks specializes in servicing exotic cars at an affordable price. Our crew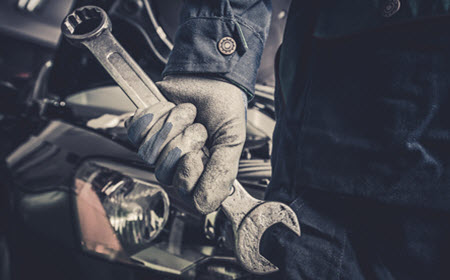 uses the highest factory-grade tools and replacement parts to give you the same level of service as a Ferrari dealership.
We understand that each and every customer is unique and has specialized needs. We are dedicated to catering to those needs and providing a stress-free experience. The Mark Douglas Motorworks website even has a blog to answer any questions you may have about your car and the work it may need.
Mark Douglas Motorworks is located in Mission Viejo, California and is proud to serve the communities in the surrounding areas in the greater Orange County area which include Lake Forest, Costa Mesa, Irvine, Huntington Beach, Laguna Hills, and Laguna Niguel, California.
If you have any questions or concerns, Mark Douglas Motorworks is only a phone call away. Put us to the test and allow us to win your patronage for your Ferrari maintenance, service, and repairs.
* Ferrari Steering image credit goes to: DarthArt.