Your car's transmission is essentially the workhorse in your vehicle – it takes on a lot of strain at times, but it's functioning is critical for your car's performance and longevity. Whether you drive an automatic or a manual transmission will greatly dictate how to care for your car's transmission, but nonetheless, it's still an important system to maintain and give attention to on a regular basis.
Caring for your transmission might be totally foreign to you, but there's no time like the present, and the life of your vehicle greatly depends on it. In this article, we'll make transmission care a little easier on you by giving you some specific tips for maintenance and ongoing care year-round to prevent transmission issues down the line and keep your car reliable and functional.
Why is it important to keep the transmission in good health?
Your car's transmission is greatly responsible for delivering the right amount of power to the wheels so that the car can increase or decrease speed efficiently, as per the driver's needs. Keeping your transmission in good health is critical for your car's overall function in terms of reliability, longevity, efficiency, and plenty of other key facets that we all look for in a vehicle.
What to look for in a failing or damaged transmission
Part of properly maintaining your transmission means that you'll need to be able to recognize when something doesn't feel right or your car isn't performing as it should. Some noticeable signs of a failing transmission include:
• Rough shifting or delayed shifting
• Transmission fluid leaks
• Rough idling
• Warning lights in dash
• Concerning noises coming from your car
It's important to remain vigilant of any of these symptoms, as the sooner you catch a transmission problem, the less long-term damage will be done. Transmission problems can range greatly in severity, and how to fix them will depend upon what type of transmission you have and how serious the problem is.
How to keep your transmission working properly all year
It's not always easy to stay on top of auto maintenance – especially if you just rely on your car to get from point A to point B. However, there are certainly helpful tips on how to keep your transmission working well all year that don't involve too much effort on your part as a driver. Here are some maintenance suggestions that may be helpful:
Hire a specialist
No matter what type of car you drive, it's always best to hire a shop that specializes in your vehicle brand. Finding a specialist near you shouldn't be too difficult, but finding a trustworthy specialist is most important.
Follow your maintenance plan
Your car's maintenance plan is specific to the brand, model, and year of your car, which is why it's important to stick to it. Your maintenance plan includes transmission flushes, fluid and filter changes, and other maintenance suggestions that will optimize your car's performance and extend its life significantly.
Perform frequent inspections
Staying in the know about how your transmission is aging and functioning is best achieved by performing inspections on a routine basis.
Keep it cool
Your car's cooling system needs to be maintained simultaneously so that your transmission can function at its best and not be exposed to extreme temperatures. Otherwise, this could lead to premature wear and part failure.
Adjust your driving habits
Become aware of how you typically drive your car or use your transmission. For instance, frequent uphill commutes, heavy traffic congestion, and timing of gear shifting, can all play a role in how well your transmission wears.
Don't wait to address concerning symptoms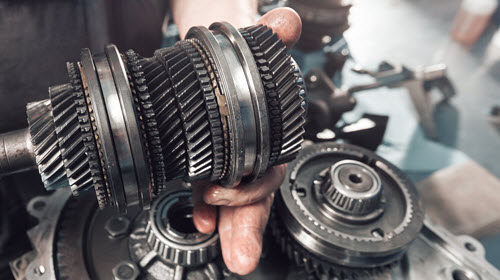 Most importantly, if you notice any concerning signs of wear or damage in your transmission, don't hesitate to call your reliable automotive specialist right away. This could save you a ton of money and trouble in the long run.
The experts here at Mark Douglas Motorworks specialize in all European and exotic vehicles, including Aston Martin, Bentley, BMW, Land Rover, Ferrari, Maserati, Porsche, and Rolls Royce, just to name a few. For years the residents of Trabuco Canyon, Irvine, and Laguna Nigel, CA, have continued to patron our shop for our honesty, integrity, and expertise, which are the qualities that set us apart from other shops in the area. If you're experiencing issues with your transmission, or would simply like to get a handle on preventive maintenance, please contact one of our specialists right away.